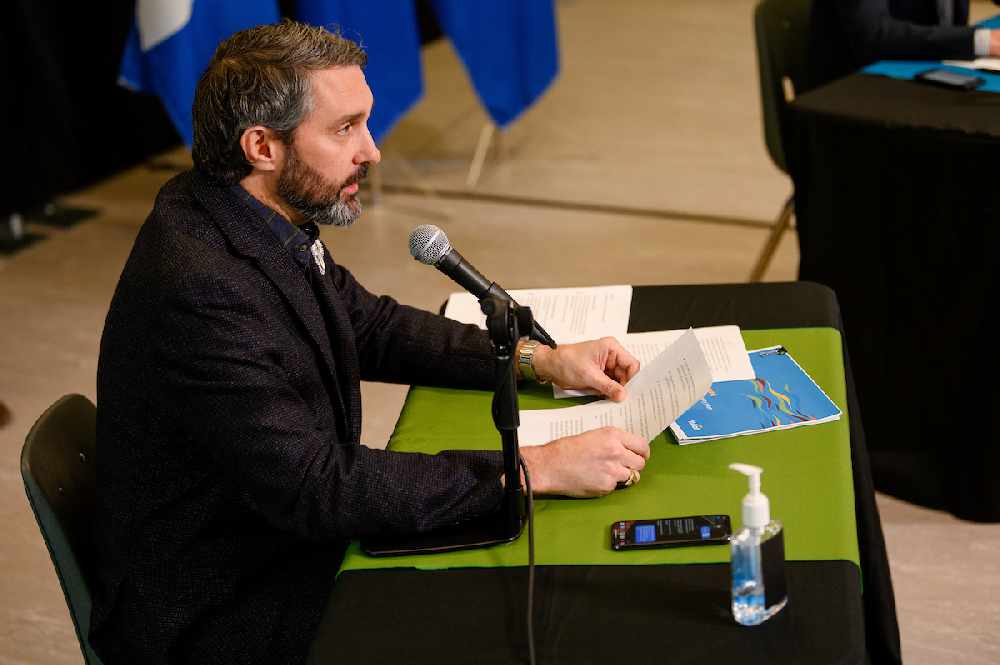 Premier Sandy Silver delivers the plan to Yukoners Friday afternoon. Photo: Alistair Maitland/Yukon Government.
Premier Sandy Silver and CMOH Dr. Brendan Hanley say the four-phase reopening plan is 'not a one-way street' and will be evaluated every 2-4 weeks.
The Yukon government is releasing a 44-page plan which eases COVID-19 restrictions in the territory.
Premier Sandy Silver told a media update Friday afternoon we are now into phase one of the four-phase plan called 'A Path Forward'. He says it contains some loosening of public health measures while keeping Yukoners safe and healthy.
One aspect of the plan he says has personal service outlets and restaurants getting ready to reopen.
"Personal services and restaurants will need to develop an operational plan and have that plan approved by the chief medical officer of health and his team," Silver said.
"Officials are available to help businesses develop these plans, and will work with them to review them as quickly as possible."
Bars are also part of this category, along with indoor public recreation centres and libraries.
Other businesses will have to complete a plan as well. Silver says those businesses that can open safely, he wants back up and running.
Daycares, day homes, and day camps have restrictions eased with adherence to public health guidelines.
'Double-Bubble'
Meantime, Chief Medical Officer of Health Dr. Brendan Hanley says we've come a long way in order to get to phase one.
He said households will now be able to choose one other household to interact with without distancing in what he called a 'double-bubble'.
"This is again, like all the other measures, it does not mean the threat is gone it is something we may have to clamp back down on if we do see an increase in cases," Hanley said.
The maximum 10 person figure for social gatherings is still in place.
Phase one of the plan contained many measures already in place. It also didn't put up any firm timelines.
Both Silver and Hanley say moving to the next phase of the plan will depend on risk assessment and the ongoing evaluation of success in maintaining stability and security at each phase.
(With reporting by John Kennedy)
Dr. Hanley outlines who will have to submit operating plans. pic.twitter.com/fTfMl6qtLE

— Tim Kucharuk (@TimKucharuk) May 16, 2020