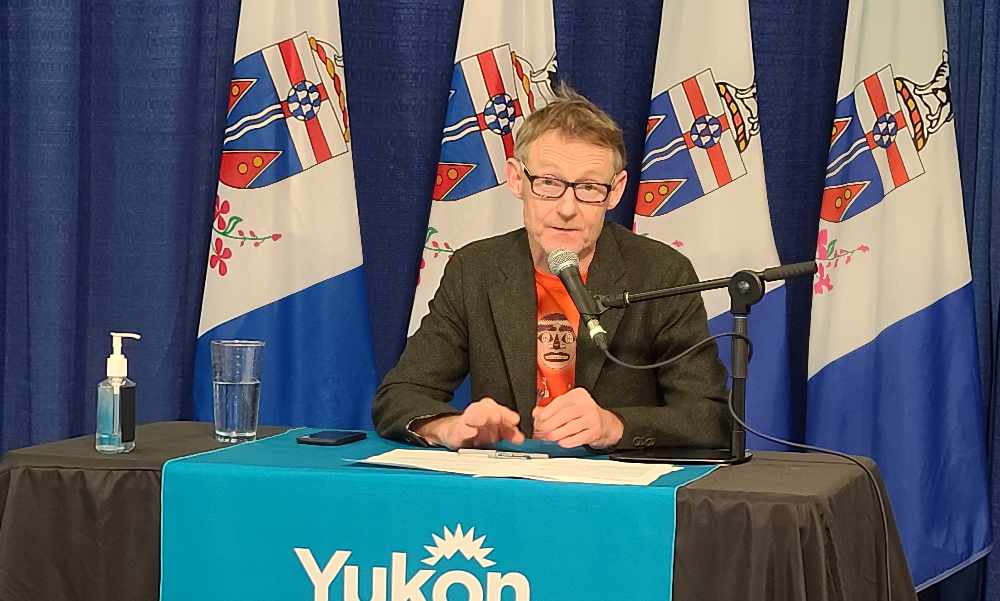 Yukon CMOH Dr. Brendan Hanley addresses Wednesday's briefing. Photo: Tim Kucharuk/CKRW.
Personnel will be on hand during business hours only, and travellers will have to fill out a declaration at a kiosk outside those hours; guidelines released for Thanksgiving, Halloween, and performances.
As we head into fall, the Yukon Government is making changes to how the territorial border will be monitored.
During Wednesday's afternoon's COVID-19 update, Community Service Minister John Streicker announced that border personnel at the Alaska Highway and Junction 37 borders would be transitioning from the current 24-hours a day schedule.
"Highway traffic has slowed down as we've moved into fall, and soon in the winter months, we anticipate it will slow down even more so," Streicker told reporters.
"We also expect the majority of travellers to be arriving by air in the coming months."
Officers will be on hand from 9 a.m. to 6 p.m. 7 days a week.
Streicker says travellers will still be required to sign a declaration and submit their self-isolation plan, along with a contact number when arriving from outside Yukon's B.C. and northern bubble. This will be done in a kiosk left on site.
The Whitehorse stop at the Alaska Highway and Robert Service Way intersection will close at 6 p.m. Wednesday.
He also announced that an individual has been charged under the Civil Emergency Measures Act for failing to provide a declaration and failing to comply with a self-isolation order.
Update on New Case
Yukon's Chief Medical Officer of Health says the one hospitalized case of COVID-19 in Whitehorse is in stable condition but improving.
Dr. Brendan Hanley says this person visiting from outside the territory did the right thing by presenting themselves at the hospital when symptoms began to appear, and the hospital was prepared.
"That serves as another reminder to Yukoners who travel to also travel and do the responsible thing," Hanley said.
"Whether you are travelling to another Yukon community, or to a location outside of Yukon, travel should provide a powerful reminder to observe those safe six rules."
Hanley says contact tracing has been completed and no public notices were necessary.
Bring on Halloween and Thanksgiving
Hanley also announced new guidelines for observing Halloween and Thanksgiving.
For diving into your Thanksgiving bird, Hanley says to keep indoor gatherings less than 10, and to your immediate social bubble. He suggested if you have a big family, maybe serve dinner in shifts.
Halloween should not be so scary if trick-or-treaters wear a non-medical mask or face covering and trick-or-treat within their social bubbles. Kids can use a prop like a broom or a sword to knock on doors.
He says candy should be wrapped, and store-bought, and urges Yukoners not to leave treats in a communal bucket for kids to take from. Those who are distributing candy can use tongs or a hockey stick to pass candy out.
If you were wondering about Thanksgiving and Halloween in #Yukon, CMOH Dr. Brendan Hanley confirmed at Wednesday's #COVID19 update they're on but will look different this year. pic.twitter.com/gUZa0fdHNi

— Tim Kucharuk (@TimKucharuk) September 30, 2020
Drop That Beat
Hanley says he's also finalizing music and singing guidelines with help from groups such as the All-City Band.
He says some of those have performers keeping a minimum of two metres between singers and musicians at all times, facing forward while singing or playing an instrument, keeping rehearsals short, and do regular cleaning of instruments.
Hanley also suggests practicing or performing in a room with good ventilation, and advises not to share microphones.
(With reporting by John Kennedy.)
Hanley on managing risk around singing and music performances. pic.twitter.com/VMZXSqSnCP

— Tim Kucharuk (@TimKucharuk) September 30, 2020