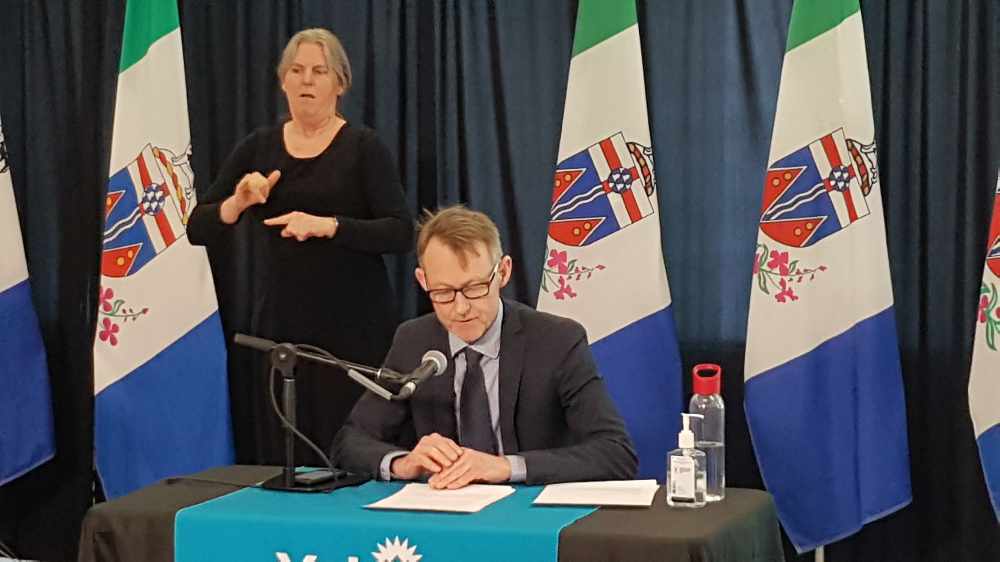 Yukon Chief Medical Officer of Health Dr. Brendan Hanley addresses media Friday afternoon. Photo: Tim Kucharuk/CKRW.
Dr. Brendan Hanley says PPE, long term care supports in place; Yukon College postpones May celebrations; YP leadership race still a go, plus more tourism support from YG.
Yukon's Chief Medical Officer of Health says preventions of a potential COVID-19 outbreak at continuing care facilities in the territory are ahead of the game.
Dr. Brendan Hanley made the comments at Friday's media briefing and says he's confident in the supply of personal protective equipment for all facilities now and going forward.
"I think they've proven just to be applying the caution needed to protect our elders and our vulnerable," Hanley said. "Within the facility, appropriate use of PPE is most definitely being adhered to."
When asked about health care workers not having to self-isolate for 14 days upon return to the territory, Hanley says risk assessments are applied, and the preferred approach is having a worker be replaced so they can self-isolate.
"Health care workers including physicians and nurses and other front-line providers who would otherwise be in self-isolation are allowed to work under a rigid and vigilant self-monitoring program," said Hanley. "(This also) includes the use of PPE over and above the usual requirements."
Hanley also says a list of essential workers is being developed and should be completed shortly.
College Delays May Celebrations
Yukon College says it's postponing May's Convocation Ceremony, and planned Yukon University transition celebration.
The college says new dates will be announced once they are determined. Officials say Convocation could take place in the fall.
A release from Friday says graduating students will receive transcripts and graduation letters need for post-graduation and employment applications. Those should arrive via Canada Post in June.
Officials say Yukon University will launch in May as planned with a new website, email addresses, branding and signage.
YP Leadership Race To Go Ahead
The Yukon Party says their leadership race is still on.
President Mark Beese says the vote set for May 23rd will use online and phone voting systems.
"We've been working for a year to bring online and telephone voting as an option for our voting," Beese said. "With all that work behind us, the election can go on without any gathering at all."
Voting is set to open on May 15th, but there will be no paper ballots or proxy voting. Beese says the results can be announced via a live stream after voting wraps up.
Candidates include current MLA Brad Cathers, former cabinet minister Currie Dixon, and former party president Linda Benoit.
More Tourism Marking Support
In order to address the impacts COVID-19 is having on Yukon's tourism economy, the Yukon Government has announced a one-time, $1 million increase to its Tourism Cooperative Marketing Fund.
The increase brings the total available funding to $1.7 million and makes it easier for Yukon businesses to receive support for their tourism marketing efforts.
The Tourism Cooperative Marketing Fund typically makes $700,000 available to assist businesses and organizations with the promotion and marketing to visitors from outside the territory.