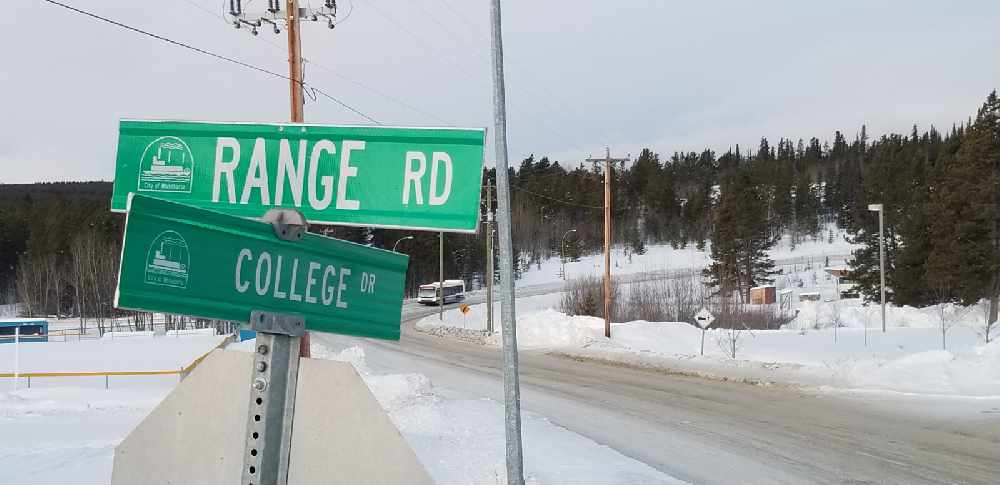 The City of Whitehorse may be swapping out College Drive street signs for ones that read University Drive. Photo: John Kennedy/CKRW.
School officials want to align the name of the connecting road leading to the Whitehorse campus with the move to a university.
A name change could be in the works for the road leading to the soon-to-be Yukon University main campus in Whitehorse.
During Monday night's council meeting, a proposal from Yukon College was brought forward to council requesting the city re-name College Drive to University Drive prior to the official launch of Yukon University in May.
Planning Manager Pat Ross says all stakeholders have been contacted about the proposed change, with letters of support from the Kwanlin Dun First Nation and Ta'an Kwäch'än Council.
"Both (First Nations) are working with the college to select a Southern Tutchone name for the private ring road within the college property," Ross explained to council.
Ross says the request is rather straight-forward, although there may be an issue with an existing seniors residence.
"To avoid mailing-address changes to the seniors at this residence, the college is proposed to name the portion of the internal college access road to the seniors' residence as College Drive."
The road also provides access to the Whitehorse Correctional Centre, Yukon Arts Centre, and Yukon Archives.
Pending council approval next week, the city would replace the old street signs and notify relevant agencies of the change.