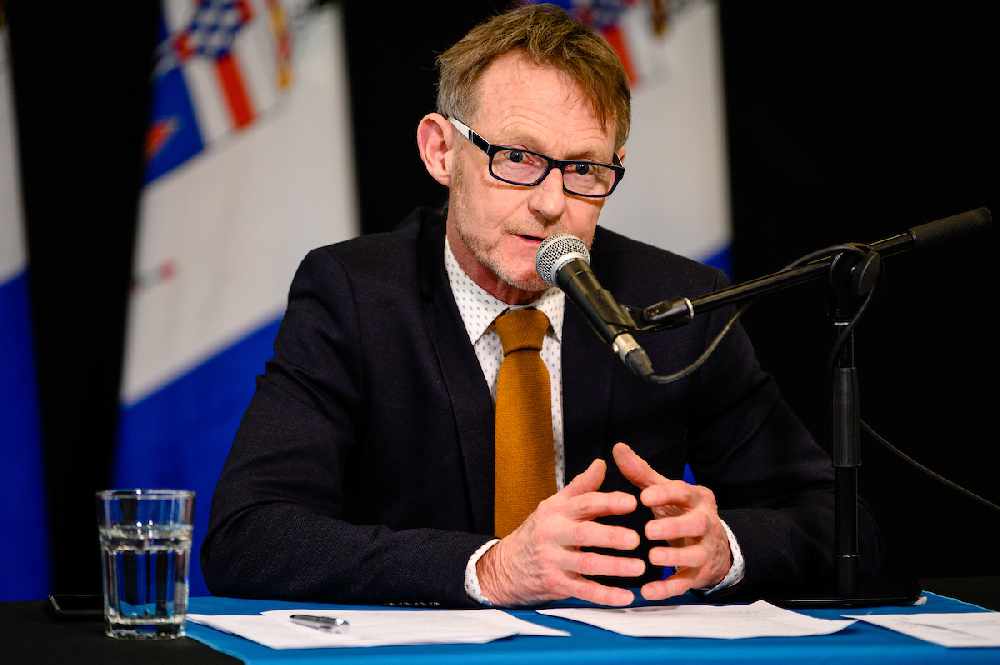 Yukon's Chief Medical Officer of Health Dr. Brendan Hanley announced a ninth confirmed case of COVID-19 in the territory on Friday afternoon. Photo: Alistair Maitland/Yukon Government.
CMOH Dr. Brendan Hanley says the case is related to travel and the person is resting at home; Premier announces new border measures.
Yukon's Chief Medical Officer of Health is confirming one more case of COVID-19 in the territory.
Dr. Brendan Hanley told a Friday afternoon update the person is at home in Whitehorse and doing well. He adds the case is related to international travel with contact tracing underway.
The new case brings the overall count to nine with seven now recovered. He said no case has required hospital treatment, and all cases have been related to travel.
Hanley also says a GeneXpert rapid test kit will be set up and running in Whitehorse in a few weeks.
"For those situations where a rapid test result can help to contain a potential cluster or outbreak rapidly or assist in clinical situations where patient care such as an urgent operation can occur more safely and efficiently with knowledge of COVID status."
Hanley says New Spartan Cube machines are expected to arrive at the end of May for portable, rapid testing in different health care settings around the territory.
He also opened the door about what it would take to relax prevention guidelines but says we are a long way from getting back to normal. Hanley said Yukon is looking to the World Health Organization who has listed six things that need to happen to maintain a steady-state of low-level or no transmission.
Those include sporadic or cluster transmission, proper health system capacity, outbreak risks minimized in high vulnerability settings, workplace measures are established, the risk of imported cases is managed by border measures and there's full community engagement.
He says we cannot fully relax until we are immune with a vaccine as an ultimate target.
Border Limitations
Premier Sandy Silver announced stricter border control measures, as all non-essential travel is banned.
"We mean business," Silver said. "If you are showing up and it's not essential and if you are here trying to escape somewhere else or just coming up for travelling for tourism reasons, we now have the authority to stop people either down south or at the border and say no and turn them around there."
He says entry into Yukon will be permitted for all individuals that provide evidence to an enforcement officer that they are a Yukon resident, are immediate family, providing a critical or essential service, transiting through Yukon to another jurisdiction or exercising an aboriginal or treaty right.
When asked if mushroom pickers coming into the territory would be considered an essential service, Silver responded with a simple 'no'.
Both Hanley and Silver stressed Yukoners are being diligent with the prevention measures, and we need to keep up the good work as it will pay off in the long run.
(With reporting by John Kennedy.)