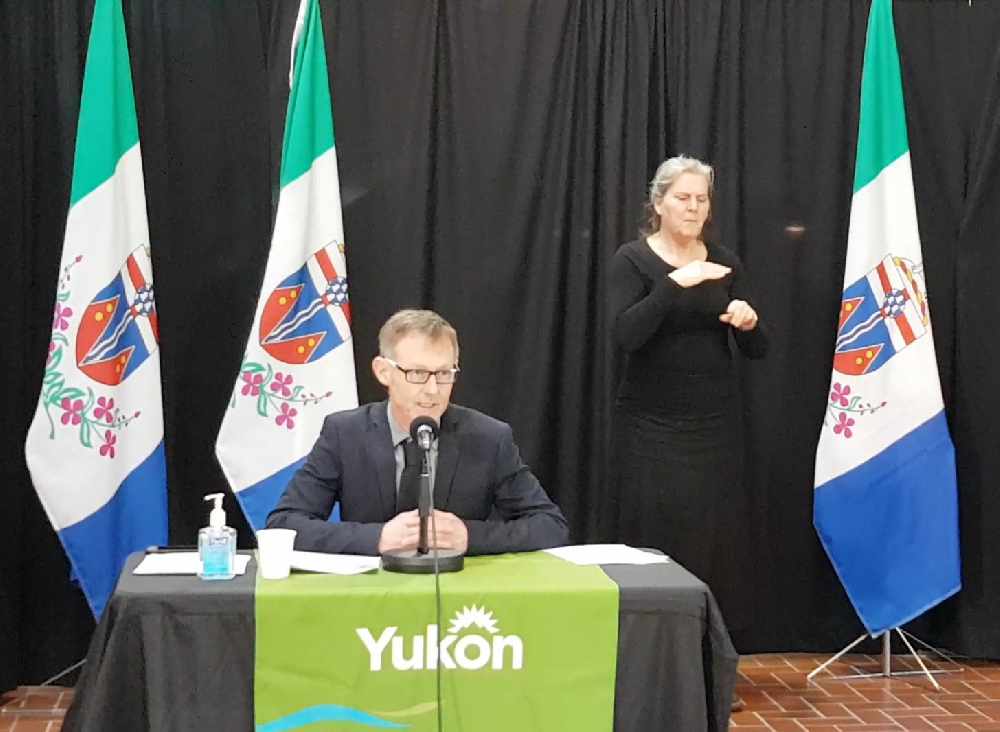 Dr. Brendan Hanley at Monday's media update with ASL Interpreter Mary Tiessen providing sign language services. Photo: Tim Kucharuk/CKRW.
Dr. Brendan Hanley announced the new case Wednesday morning as well as new measures at Yukon Hospitals.
Yukon's Chief Medical Officer of Health says there's a third case of COVID-19 in the territory.
Dr. Brendan Hanley told a media briefing the case was confirmed Wednesday morning.
"This individual travelled outside Yukon, within Canada and returned," Hanley said. "The person is thankfully doing well with mild symptoms and is in self-isolation."
"The test result was received 48 hours after the swab was taken, so we are encouraged to see these new turn-around times."
Hanley was asked if we are getting to the point of closing non-essential businesses, and while mining has been deemed an essential business, many Yukoners have been wondering about their status.
He says it's about striking the right balance.
"If those (health and safety) measures in place are sufficient, then there's no worry to close things down," Hanley responded. "We are very closely working with the mines, and with the medical operations plan which each mine has."
Hanley says Yukon Hospitals are suspending all non-urgent or routine services starting Thursday such as bloodwork and lab tests, x-rays, CT scans, and other imaging services.
'Time To Take This Very Seriously': Frost
Health Minister Pauline Frost says this is the time to take COVID-19 very seriously to protect others and our communities.
She says anyone returning to rural Yukon or from outside the territory must self-isolate.
"To do this properly, you must stay in your homes, and avoid contact with others for a full 14 days," Frost said. "Do not carpool to the airport, do not stop for groceries on the way home, do not go to a friend's for dinner. You must stay home and monitor your symptoms."
Frost says she has been working with early child care providers in recent days, and they will get their full funding allotment.
Meantime, she says she's spoken to daycare operators who are concerned about funding.
"I know they are going above and beyond and they are also concerned," Frost said. "We heard their concerns. We had staff on the call Tuesday speaking to them about how they can (directly) access the funding, assuring them there will be no disruption in the direct operating grant. They will continue to get the funding."
Hanley says guidance on operations is being developed with Family and Children's Services.
According to the numbers posted on the government website, Yukon has had 412 negative results, with 102 pending results.
Hanley provides some analysis and encourages Yukoners to be mindful of their mental health. pic.twitter.com/JlPwpucuBY

— Tim Kucharuk (@TimKucharuk) March 25, 2020