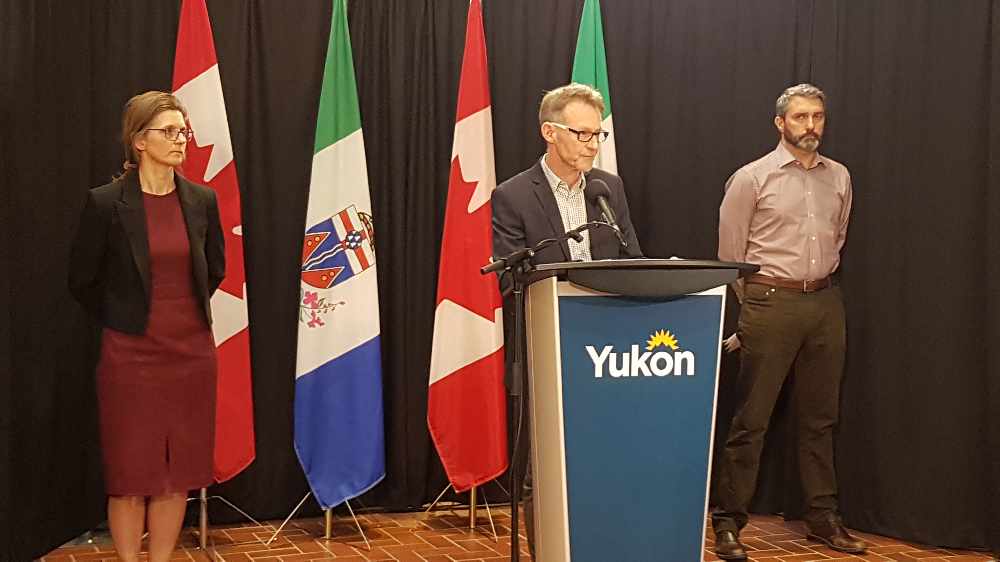 Chief Medical Officer of Health Dr. Brendan Hanley addresses media Sunday night, alongside Deputy CMOH Dr. Catherine Elliott (L) and Premier Sandy Silver. Photo: Tim Kucharuk/CKRW.
The two cases announced Sunday night are a couple who returned from the U.S.; new travel restrictions, establishment closures now in place.
Yukon's chief medical officer of health says the territory has its first two cases of COVID-19.
Dr. Brendan Hanley told a media briefing Sunday night a couple from Whitehorse who attended a conference in the U.S. were tested upon their return.
He says they have both been self-isolating since they returned.
"Due to symptom development they were both tested, test results were received within three days," Hanley said. "They are continuing self-isolation at home, and contact tracing through public health is going on as we speak, and they are doing well."
"They are meticulously following public health advice and they were from the beginning. They were asymptomatic during travel, they phoned and they got treated as soon as symptoms developed and they have mild disease."
He says the couple returned on a flight last week, but those details will not be released, as they were not showing symptoms while on the flight.
New Prevention Measures
Hanley also announced several measures to protect against COVID-19 in Yukon, including all travellers returning to the territory, must self-isolate for 14 days, and there should be no non-essential travel outside of the territory, or into rural Yukon.
He also announced restaurants must immediately reduce their seating capacity to 50 percent, and offer take out and delivery only by Thursday.
"As of closing time (Sunday) March 22nd, all bars must close until further notice," Hanley said. "All personal establishments must close by the end of the day Wednesday, March 25th. This includes hair salons, barbershops, tattoo parlors, nail salons, and massage therapists."
Hanley also says gatherings of more than 10 people are banned, and smaller gatherings should ensure spacing of two metres between people.
He also says the situation regarding daycares has not changed.
A Stern Message from Deputy CMOH
Deputy chief medical officer of Health Dr. Catherine Elliott says they have enforcement mechanisms in place if they need to.
"I really want to get real here," Elliott said. "If you are closer than two metres from somebody you are at risk of spreading a disease where the only mechanism we have to stop the spread is prevention. So I think every one of us (has) to think about that, and taking these measures very seriously in order to protect the health of everyone in our community."
Hanley says the authorities are available under the Public Health and Safety Act, and such enforcement would work still has to be worked out.
Premier On Travel Restrictions
Yukon Premier Sandy Silver also spoke at the press conference and says it's time for Yukoners to come home.
"The borders will remain open to Yukoners who are returning home," Silver said. "If you are a student coming back from school, or a Yukoner away for personal travel, now is the time to come home. When you come home, you will have to self-isolate for 14 days. If you do not have the ability to (self-isolate) safely, please contact us through Yukon.ca and we will help."
Silver says Yukoners must follow all the guidelines as advised by the Chief Medical Officer of Health to protect fellow Yukoners.