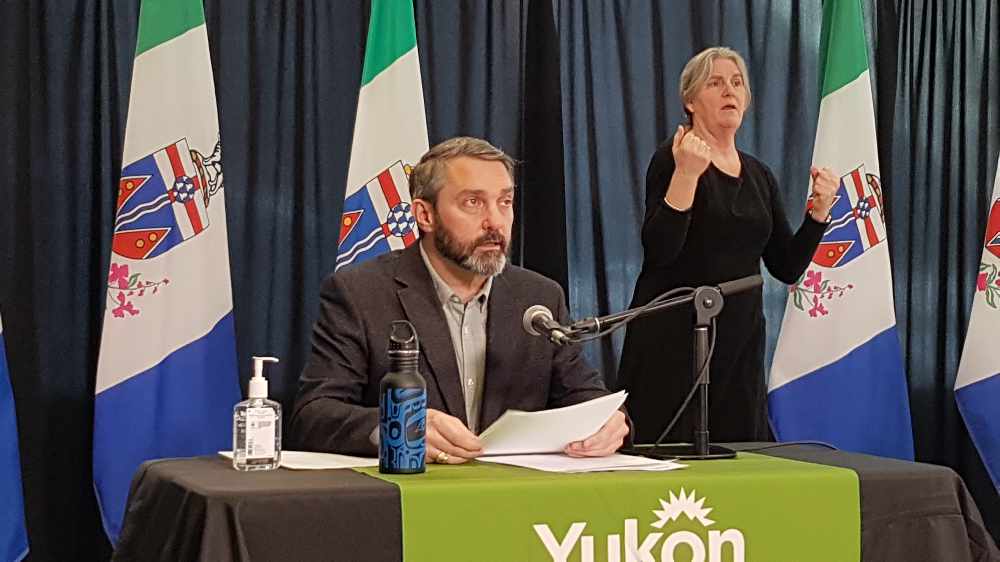 Premier Sandy Silver reads a statement declaring the emergency Friday afternoon. Photo: Tim Kucharuk/CKRW.
Premier Sandy Silver says the move will give the territory more resources to deal with COVID-19; fourth case confirmed.
Yukon has declared a state of emergency in response to COVID-19.
Premier Sandy Silver made the declaration at a media briefing Friday afternoon adding there is no reason for Yukoners to panic as the declaration gives the government more tools for the toolbox.
"The current situation in Yukon is being well-managed by the emergency coordination team, our medical system, and by the chief medical officer of health," Silver said.
"(Friday's) declaration does not supersede Yukon's human rights, nor does it allow (the) government to access your personal medical information."
Silver says the order under the Civil Emergency Measures Act is in effect for 90 days but can be rescinded at any time.
A release clarifies the emergency does not indicate a significant change in circumstances or an increased risk to Yukoners but prepares the government to take rapid action if needed.
Breaking: #Yukon set to declare a state of emergency under the Civil Emergencies Measures Act in response to #COVID19. pic.twitter.com/YOyJhjdLIE

— Tim Kucharuk (@TimKucharuk) March 27, 2020
Fourth case
The territory is reporting one more case of the disease, bringing the total to four.
Yukon medical health officer Dr. Brendan Hanley says all are doing well at home, and the fourth case is related to the third.
"Case 4 is an individual from Whitehorse who is a close contact of a known case," Hanley said. "Test results were received within three days. The person has mild symptoms and is continuing self-isolation at home."
He says the case was not unexpected and with an ongoing investigation, more positive tests could be confirmed by Monday. However, he says there's no evidence of community spread as the cases can be traced. Hanley says they are now managing a cluster in order to prevent community spread.
Hanley says right now it's a war as we are all working together against a common enemy.
"We need to be very deliberate with our strategy," Hanley said. "We need to be tactical, organized, and one step ahead of the invisible enemy. We are the solders and we are the home guard. And whatever our role is in the community, we will do this together.
New rules imposed also say residents who are flying into Canada with symptoms of the virus must quarantine at their arrival destination before coming to Yukon, and those who don't have symptoms must self-isolate for 14 days when they get home.
Hanley has also issued an order for all dentists to suspend non-urgent treatment until further notice.
Hanley says everyone entering Yukon to work in a mine must self-isolate for 14 days and workers can not carry out their regular duties during that two-week period.
Premier Silver encourages Yukoners to take some time away from the news this weekend, read a book, call a friend, or go for a walk while maintaining physical distancing guidelines.
Here's the latest numbers from the Yukon Government website. pic.twitter.com/nl6j6EXpId

— Tim Kucharuk (@TimKucharuk) March 27, 2020