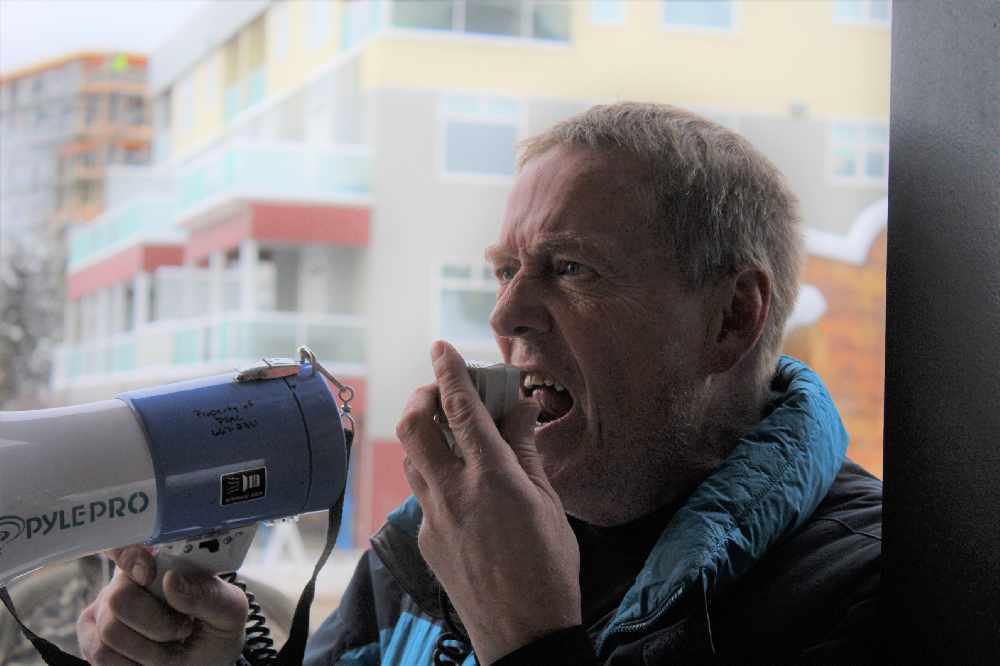 YEU President Steve Geick chanting into a megaphone outside the YG administrative building. PHOTO by John Kennedy / CKRW
The Yukon Employee's Union is discussing the future of the Queens Printer and Central Stores in Yukon.
The Yukon Employee's Union isn't happy with the Yukon Government's handling of the Central Stores' disbanding and Queens Printer scale backs.
During a press conference early Thursday morning, the National President of the Public Service Alliance of Canada Chris Aylward claimed a contract replacing Central Stores as the Yukon Government's main office supply store has been awarded to Staples Canada.
He says Staples will be boycotted Canada wide if that's the case.
"They will not be just boycotted here in Whitehorse, they will be boycotted across the country. We have 3.3 million workers unionized under the Canadian Labour Congress and we will be asking the Canadian Labour Congress as early as this Monday (Nov 18th), to boycott, and put out an official boycott of Staples locations across Canada."
Minister Richard Mostyn is disputing the claim that the contract for the supply and delivery of office and janitorial supplies has been awarded, saying the process is still ongoing.
YEU President Steve Geick says going forward, the union will be watching YG closely to ensure no changes are made to the legislation preventing further privatization and outsourcing.
Geick says Central Stores was told one year ago to reduce their stocks, resulting in YG office supplies being purchased outside of the territory.
"This is again, something that has been planned. That money is not staying here (Yukon), It is adding to the carbon footprint, and what they've basically said is 'well, departments are going off and doing this on their own anyhow, so we may just join in and close 'er down.'"
A noon-hour rally was held outside the Legislative Assembly in Whitehorse, with union members sitting in on question period.