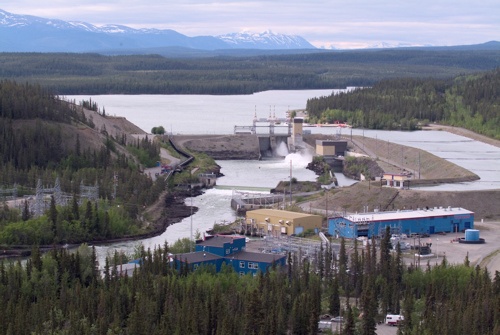 The Whitehorse operations of Yukon Energy. Photo: Yukon Energy.
The corporation wants to get the thoughts of Yukoners before a final board decision is made next spring on their Southern Lakes Enhanced Storage project.
Yukon Energy wants to hear from the public about their proposed Southern Lakes Enhanced Storage Project.
President Andrew Hall says before the board of directors make a decision on the project next spring, a final round of consultation will take place in Tagish, Carcross, Whitehorse, and Marsh Lake next month.
"We really wanted to go out and just get a measure of what the public opinion was toward the project," Hall said. "Both within the residents of the Southern Lakes area who would be most directly impacted, as well as Yukoners more broadly."
Hall says the project involves holding back water in Marsh, Tagish, and Bennett lakes each fall, for use at the Whitehorse dam during the low-flow winter months.
"We do that through the control structure that we have, the Lewes control structure," Hall said. "We have gates that we can manipulate. The project would involve keeping those gates closed longer in the fall to hold back water."
He says there would be shoreline erosion and some groundwater flooding, however, Yukon Energy would help affected homeowners.
Information from Yukon Energy says this would generate 6.5 gigawatt-hours of renewable electricity, reduce greenhouse gas emissions by about 3,100 tons per year, and save about $1 million in diesel and LNG costs.
If the board approves the project, an application would then go to the Yukon Water Board.