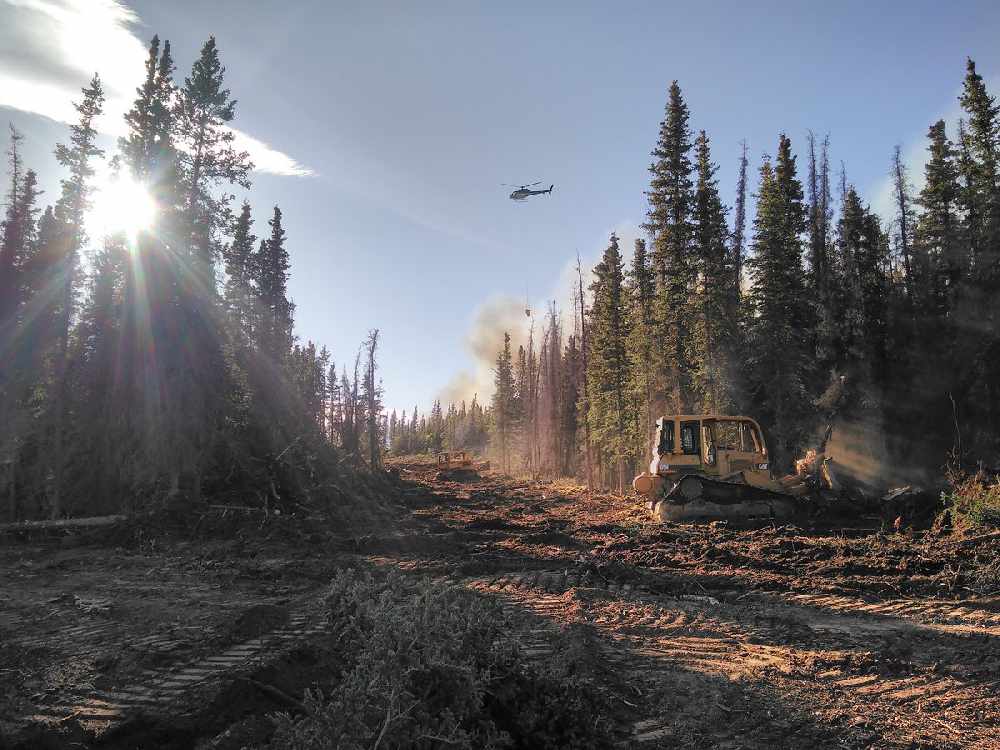 Crews build a fire line at the south end of the Bear Creek fire. Photo: Yukon Wildland Fire Management.
The fire north of the village continues to be fanned by a south wind, as a Kluane park fire ban and city permit ban are put in place.
Yukon Wildland Fire Management says the Bear Creek wildfire north of Haines Junction is now 571 hectares.
The update from late Tuesday night, says wind from the south continues to prevail, and the flames saw limited spread to the north.
Officials say two properties just south of the fire have been put on evacuation alert, which means they may be ordered to leave in short notice. The village itself is not under an evacuation alert.
Wildland Fire says the focus of the attack is securing the south and east flank of the fire. More crews from Yukon First Nations, and from across the country are expected to arrive later this week.
A community meeting involving the territorial government, Champagne and Aishihik First Nation, and the public is set for Wednesday at 6 p.m. at the St. Elias Convention Centre.
The agency says there's been a total of 27 fires this year, burning a total of almost 3,300 hectares.
There's an extreme fire danger rating for southern Yukon stretching from the Kluane region through Whitehorse to Watson Lake, while the central part of the territory including the Dawson area has a low to moderate rating.
The exception is Mayo which is listed as extreme.
Kluane Fire Ban, City permit ban.
Parks Canada has implemented a fire ban for Kluane National Park and Reserve, which means all open fires are prohibited throughout the park, including the Kathleen Lake campground and day use area.
As well, the Whitehorse Fire Department says residents need to put more effort into extinguishing their fires.
Fire Chief Mike Dine says the department has had to fight seven illegal fires in two days within the past week.
"It's such a simple thing to actually extinguish your fire and take responsibility for it." Dine said.
He added the city can put a total fire ban in place if needed, but they usually follow the territorial government's lead.
However, with an extreme fire danger rating in Whitehorse, the city announced Tuesday afternoon it is temporarily suspending burning permits.