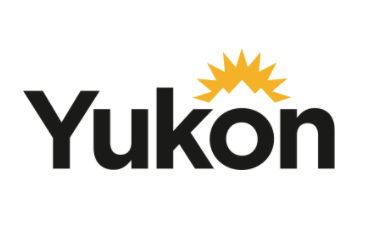 Yukon's new logo revealed following the launch of a new visual identity Monday. (Government of Yukon)
The territory is launching its new user-centered website and visual identity as it undergoes a re-branding, worth $493,000.
The Yukon government has a new website and visual identity.
The logo resembles the current 'Larger Than Life' tourism logo with the sun moved over the letter 'O', and the government's redesigned Yukon.ca site is live as of Monday costing a total of $493,000.
Kendra Black with the government's Executive Council Office says the goal is to reduce the amount of time and money spent communicating with the public by putting the most popular tasks first.
"Improve the services that we provide to Yukoners as well as visitors to the territory and we want to make it as easy as possible for people to access our services and to find the information they are looking for and we think the website and the new visual identity accomplishes that."
Black says the logo, visuals, and an accompanying design standards manual cost $76,880 and were designed by local firm Outcrop Communications.
"We found that people were really attached to the 'Larger than Life' logo and we've actually moved to a unified brand so we will have a consistent brand for the government and tourism logo building off the very well recognized and very popular 'Larger than Life' logo that tourism has been using."
Black says once the visual identity is fully implemented, the savings will total one-million dollars per year, while the website maintenance and support will be cut in half to $75,000 dollars.