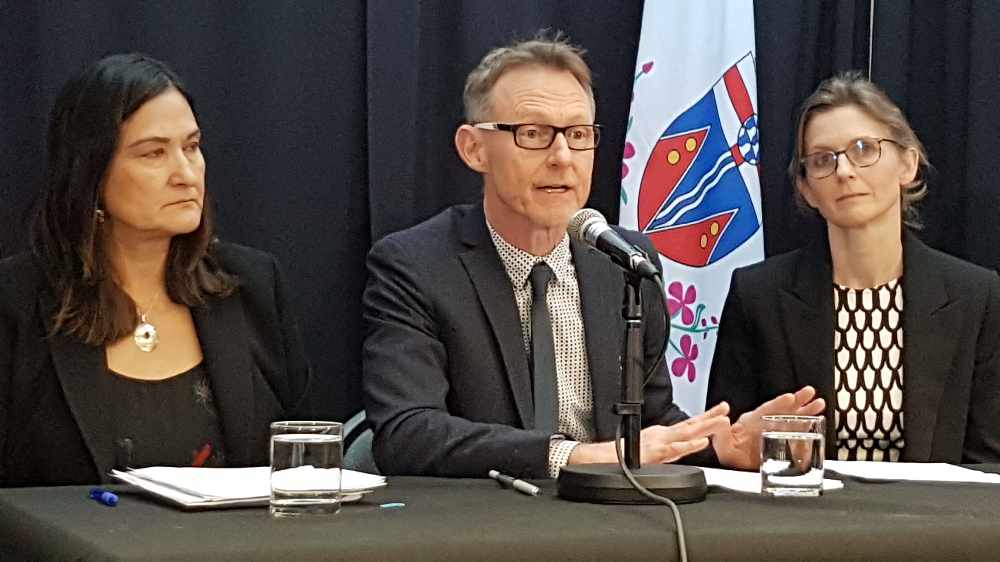 (L to R) Health Minister Pauline Frost, Dr. Brendan Hanley, and Dr. Catherine Elliott update the media on Thursday morning. Photo: Tim Kucharuk/CKRW.
The chief medical officer of health says there are no confirmed coronavirus cases in the territory, testing is underway, and they are ready for the first case.
Yukon's chief medical officer of health says there are no confirmed cases of coronavirus in the territory.
Dr. Brendan Hanley gave the update at a media briefing Thursday morning and says while we are in uncharted territory and this virus is different, it is manageable.
"It's actually when you get onto the ground, it's actually not that scary," Hanley said. "We know how to do this, we've done this in the communities where actually diseases like tuberculosis which are more spreadable in terms of airborne transmission. This is not airborne transmission. this is spread like influenza."
He says the Coronavirus ranks somewhere between influenza and SARS.
Dr. Hanley says public health measures are first and foremost such as washing your hands, and Yukon is following the Public Health Agency of Canada and B.C. guidelines. He says everyone needs to work together, and officials see that happening.
He was accompanied at the briefing by deputy chief medical officer of health Dr. Catherine Elliott, who says surveillance testing has been done in Yukon over the past few weeks, adding dozens have been done so far.
Dr. Elliott says testing began two weeks ago, noting between 10 and 100 tests have been done and are ongoing. She says the tests are sent to B.C. where it takes three to five days to get the results.
Dr. Elliott says the biggest concern right now is fear, and officials are ready for the first case.
"What we're hoping is that the public doesn't overreact to the first case to be perfectly honest," she said. "From a public health perspective, it's not a big deal. It's completely what we do with an infectious disease that has the same type of spread."
She says if you think you are experiencing symptoms of a respiratory infection such as a cough, fever, or shortness of breath, and feel you may have been exposed, use the telephone to contact a health provider. She says someone will come to you to test you in your home and give you information.
School Trip Cancellation
The Principal for F.H. Collins Secondary School in Whitehorse says it's disappointing that international school trips were cancelled due to the pandemic sweeping the globe.
Jay Thomas says a social justice club trip was planned for Costa Rica.
Yukon health officials made the recommendation to cancel international trips on Monday as the international situation grew worse.
AWG Flag Handover Cancelled
An Arctic Winter Games flag passing ceremony set for Friday in Whitehorse has been cancelled.
The 2020 Arctic Winter Games Host Society was set to pass on the games flag to the 2022 hosts, Wood Buffalo, Alberta.
Whitehorse games officials cancelled the ceremony because the 2022 host team had to change their travel plans and couldn't attend.
Meantime, officials with the Yukon Native Hockey Tournament say on social media Thursday afternoon, they are working with health officials and will have an announcement shortly on the status of the tournament which is set to begin March 28th.
(Additional reporting by John Kennedy.)
(The full audio from Thursday morning's press conference.)