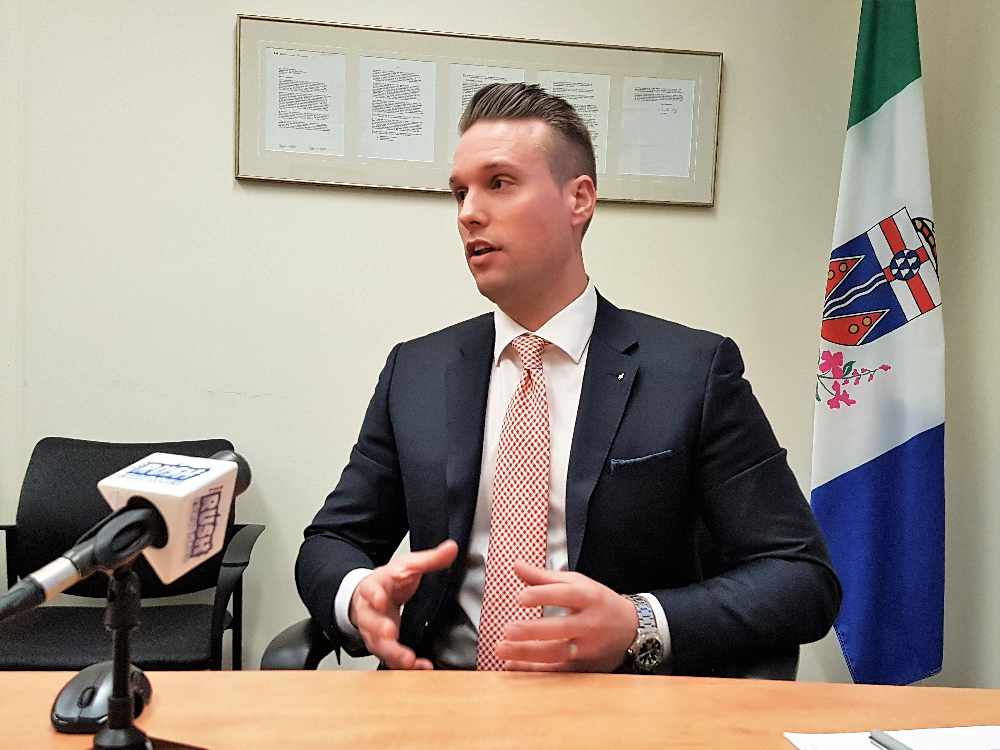 Transportation Planning Director Richard Gorczyca goes over the plan with media Wednesday morning. Photo: Tim Kucharuk/CKRW.
The Roadway Maintenance Improvement Program sets a schedule for work such as line painting, brush clearing, and safety device installation.
The Yukon government says it's moving items such as highway line painting, brush clearing, and safety improvements from a worst-first basis to a more strategic program.
Highways Minister Richard Mostyn unveiled the Roadway Maintenance Improvement Program Wednesday telling reporters he was shocked to learn such a program was not in place already.
"We're moving from a haphazard, fast and loose approach to one that is data-driven and strategic," Mostyn said. "The new program is informed by traffic volume, trade corridors, community links, (and) tourism."
"Within a period of six years, we will have the entire network done."
Transportation Planning Director Richard Gorczyca says brushing contracts will be out shortly, and work will begin this summer.
"The brushing area that we have to clear out from a backlog of work is a higher volume of brushing over the first six years of the program," Gorczyca said. "Ongoing, because we have a repetitive, cyclical process here, we are expecting those costs to come down due to a reduced volume of brushing."
The program involves classifying each highway, with work done on an annual basis to every three or six years depending on the classification.
There's $4.9 million set aside for the program this year.
#Yukon highways minister @yukonrpmostyn says previous jobs like vegetation control and line painting were done with 'very slim information and little to no long-term planning'. He says that changes today. pic.twitter.com/M8l1v0EyH1

— Tim Kucharuk (@TimKucharuk) April 10, 2019