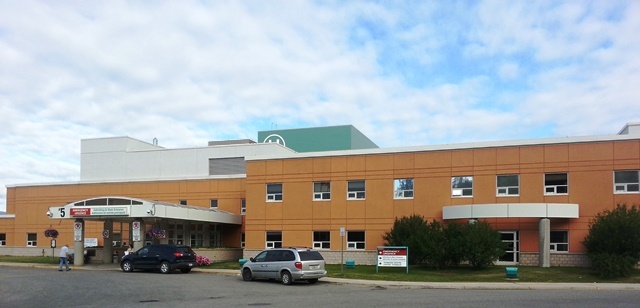 The Whitehorse General Hospital. Photo: Tim Kucharuk/CKRW file.
YHC says the number of visitors per patient depends on the level of care and the policy is being revised as the pandemic plays out.
The Yukon Hospital Corporation says their patient visitor policy is ever-changing during the COVID-19 pandemic.
Communications Manager Sheri De Carlo says right now, there are no visitors if you have a booked appointment, one visitor for each intensive care and emergency room patient, and two visitors up to a maximum of five for those at end of life.
She says limiting access has been difficult for staff, patients, and families.
"Yukoners can expect that there will be hospital screening and visitor restrictions in place for some time," De Carlo told the RUSH.
"It really is to ensure we protect our staff, patients, and any visitors to the hospital at this time."
De Carlo says some exemptions are made in specific cases.
"(We have) a visitor policy that's as accommodating as possible within the required restrictions while still maintaining personal protective equipment and physical distancing," she said.
"We update the visitor policy as the situation changes."
The RUSH has learned there was at least one instance that occurred last week of a patient receiving five visitors at a time saying they had a special exemption.
De Carlo says she can not comment on specific cases due to privacy concerns.
She does note Yukoners have been taking their health and safety seriously and have been courteous to hospital staff.
De Carlo says you can check their website for the latest updates.