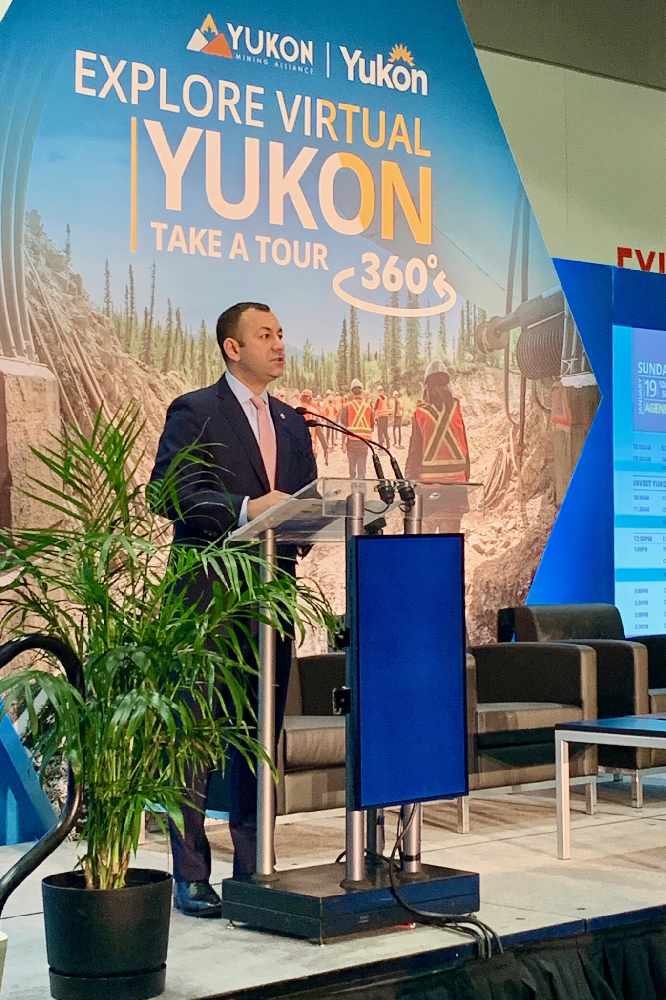 Energy, Mines, and Resources Minister Ranj Pillai speaks at Roundup. Photo: Yukon Government/Twitter.
EMR Minister Ranj Pillai says Yukon once again put its best foot forward at the annual gathering of mining players in Vancouver.
Yukon's Energy, Mines, and Resources Minister says this week's Mineral Exploration Roundup in Vancouver was a successful one for the territory.
Ranj Pillai says besides Yukon playing a prominent role at the yearly gathering of miners, he's getting signals some of the bigger industry players may want to do more investing.
"I think people are feeling that investor confidence is being restored which is something that we want to hear," Pillai told the RUSH. "A lot of investors are back at the table after 5, 6, 7 years being away from it. I think that has left a lot of companies feeling confident heading into 2020."
Pillai also welcomes a $500,000 announcement from the federal government to promote northern mining at the Prospectors and Developers Association Conference in Toronto.
"Really just trying to get ready for PDAC and ensuring that we put the north to the front of the line in that conference," Pillai said. "Let people know just how great a place it is to come and invest and the capacity that's in the north and our communities and the long history in all the territories of getting things done right."
As for the 2019 season, Pillai says he won't make any judgements until the final numbers come out.