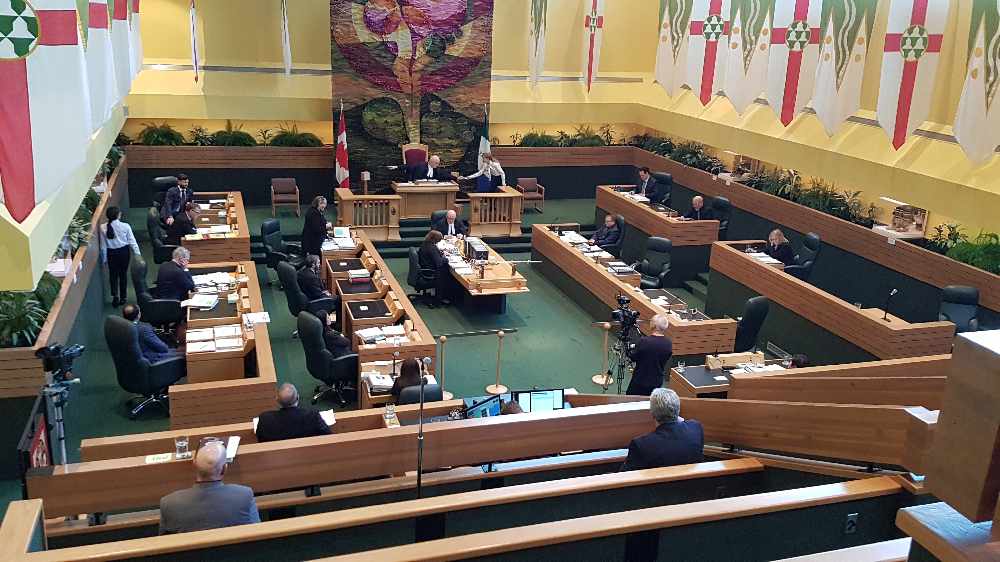 Yukon MLA's practice social distancing in the assembly Thursday afternoon with some sitting in the now-closed public gallery. Photo: Tim Kucharuk/CKRW.
The Legislative Assembly worked into the evening hours to pass the 2020-2021 budget, as the house is now adjourned until October 1st; Alaska border to remain open; City of Whitehorse operations normal, and more events are cancelled.
Yukon MLA's worked into the night to pass the 2020-2021 budget much earlier than expected due to the COVID-19 pandemic.
The house adjourned at 9:29 p.m. as the Liberal government passed the $1.6 billion territorial budget which sets spending for the next fiscal year. The budget passed just nine days into the spring sitting.
After getting unanimous consent to bring the budget for a vote, Premier Sandy Silver told reporters getting the budget passed means Yukon can make federal applications and provides spending assurances for the medical community, Health and Social Services, economic development, and utilities.
"That gives us spending authority past two months," Silver said. "We're hearing the Minister of Health and Social Services right now talking about the two months of interim supply money that is already being spent at a very quick rate. Even though it gives us spending authority for two months how much money is left after two months is a growing concern."
Silver says all resources can now be put toward the COVID-19 effort.
"We could sit and wait and see what happens, or we could work together and get this budget debated," Silver said. "We're seeing other jurisdictions that are going through similar situations, and we are seeing politicians right across Canada rise to the occasion and coming together as Canadians and doing the right thing."
The opposition agreed to bring the budget forward for a vote after the Yukon Party secured more time to debate the budget on Thursday, and permanent funding for Continuous Glucose Monitoring for the T1D Support Network. The NDP agreed after getting written assurances from the government there would be safeguards against evictions.
The actual vote had all 10 Liberal MLA's agree, with five Official Opposition Yukon Party, and two NDP members voting against.
The house was then adjourned until October 1st.
Overview
According to Yukon Health Minister Pauline Frost, there are no confirmed cases in Yukon as of Thursday.
The territory is expected to provide an update Friday morning and talk about a respiratory assessment centre to open at the Yukon Convention Centre in Whitehorse.
There are 923 coronavirus cases in Canada, with 12 deaths. 10 cases have been resolved.
Alaska Border To Remain Open
Even though the Canada-U.S. border looks to close to all non-essential traffic late Friday there is a break for Alaska residents.
According to public radio KTOO in Juneau, Governor Mike Dunleavy indicated Thursday night, Canada's border restriction is not affecting Alaska's crossings in Southeast Alaska or the Alaska Highway.
Dunleavy told reporters because those crossings are the only land crossings they will remain open.
After it was announced the border would be closed to all but essential travel and commerce, Skagway, Haines and Hyder residents expressed concern about how the closure would impact their communities, as they only have single road access to Yukon and B.C.
Whitehorse Mayor On Pandemic
The Mayor of Whitehorse says with all that's going on with COVID-19, we need to make sure we take care of each other.
Dan Curtis says we're going to get through this one day at a time.
"It is evolving second by second and I think there's a lot of concern out there," Curtis told the RUSH. "I think there's a lot of reason for optimism as well. We have gone through crises in the past, and not this is like those, but it's not totally dissimilar as well."
"I'm very confident as the days go on, and progression happens that we're going to see ourselves to the end of this (crisis)."
Curtis says it's business as usual for the city, but with the new reality of working from home, adding city services such as water, sewer, and garbage, plus the transit system is running normally.
He says buses are being deep-cleaned regularly, and some seats have been blocked to adhere to social distancing.
Bike Relay, River Quest cancelled
Two big Yukon events have been cancelled due to the pandemic.
Organizers of the Kluane Chilkat International Bike Relay from Haines Junction to Haines, Alaska say the 2020 event will not go ahead this year. while the Yukon River Quest says the late-June race has been cancelled as well.
Bike Relay President Rob Welton it's in order to protect the community from the coronavirus threat, and they support all actions to keep us safe.
He says the relay will be back stronger than ever in 2021.