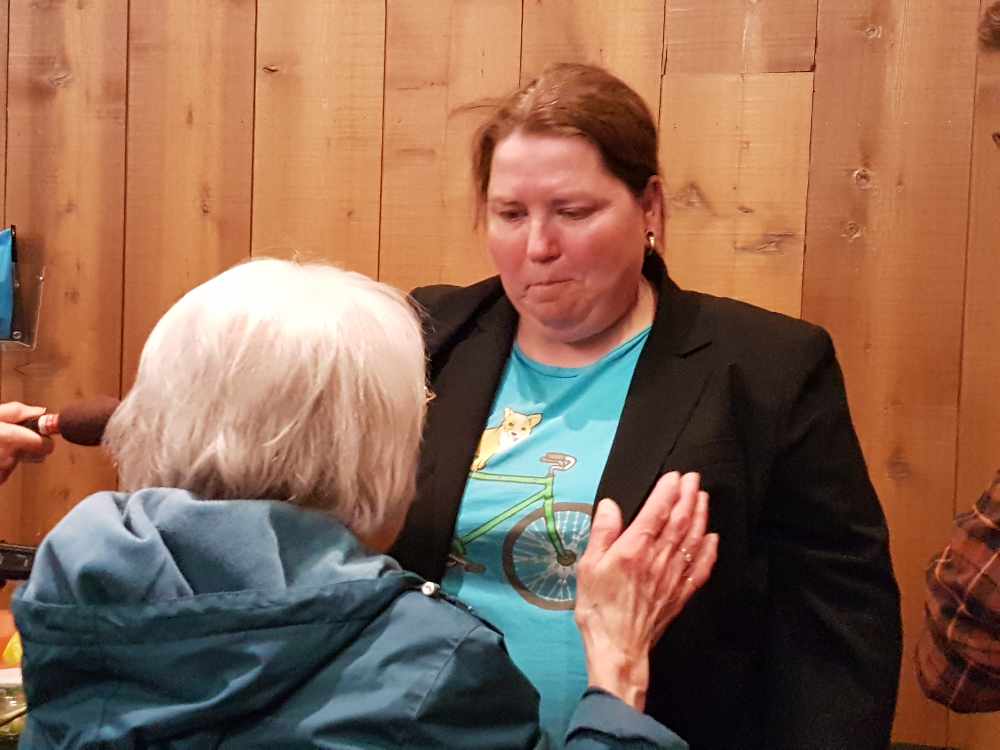 New Yukon NDP leader Kate White receives congratulations Saturday afternoon. Photo: Tim Kucharuk/CKRW.
Kate White was feted at a party convention in Whitehorse on Saturday.
Takhini-Kopper King MLA Kate White is officially the new leader of the Yukon NDP.
White was acclaimed during the party's convention in Whitehorse on Saturday.
During her acceptance speech, White told over 80 party faithful, she's fed up with the system, and Yukon deserves more.
"I'm tired of participating in a system that clearly doesn't work," an emphatic White told supporters. "I'm tired of false majority governments, I'm tired of wasted time, empty promises and token measures."
"I'm not standing here because the system works, and I'm not standing here to tell you I support the status quo. Because I'm done with it."
White told the convention she will introduce a motion in the fall session of the Legislative Assembly to declare a climate change emergency in Yukon.
She pointed to the fact former MLA Jim Tredger could not attend the convention as he could not cross the Pelly River near Stepping Stone due to historically-low water levels.
White later told reporters she doesn't have much faith the motion will pass.
"Let's be honest. Every good idea that comes from across the way gets amended," White said. "We put in words like 'consider' or 'investigate' or 'sometime in the future' with no deadline."
"Would I like them to agree with this? Yes. Is it dire? Yes. It's unlikely, I'm sure someone will come down to my office and want to talk about a friendly amendment that takes away from the teeth so be it."
White says it's going to take diversity and enthusiasm to win the next territorial election.
She notes if the NDP win the next election, it will be the last under the first-past-the-post system.
.@MsKateWhite is officially the new leader of the @YukonNDP. #ytpoli pic.twitter.com/2FkmTmVtSJ

— Tim Kucharuk (@TimKucharuk) May 4, 2019