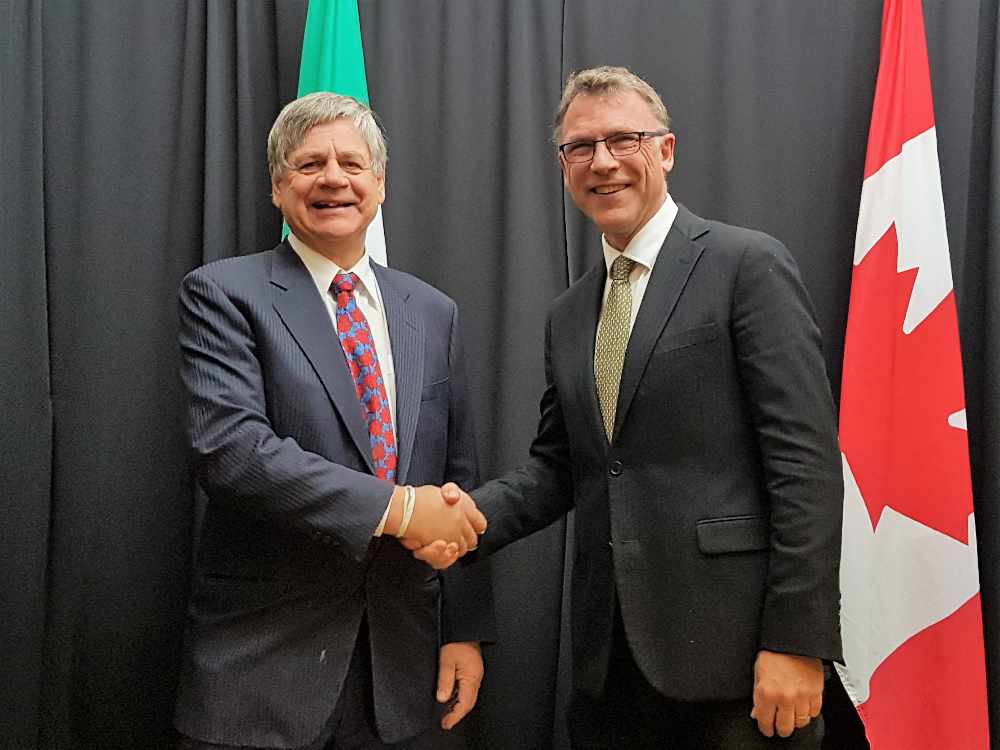 Larry Bagnell (left) and Yukon Highways Minister Richard Mostyn shake hands after Wednesday's announcement. Photo: Tim Kucharuk/CKRW.
$3.6 million in funding over four years will help combat and find out how climate change is affecting northern highways.
The federal and territorial governments are teaming up to fund two studies looking at the affects of climate change on northern roads.
MP Larry Bagnell and Yukon Highways Minister Richard Mostyn announced $3.6 million in funding over four years for two projects late Wednesday morning.
Bagnell says one project will look at climate change adaptation and impacts on the Dempster, and Inuvik to Tuktoyaktuk Highways.
"How is climate change damaging it, what's the cost to us? There's a lot more cost in the north." Bagnell told reporters.
"The third part is how do you set up training for people to be able to take care of highways under these specific conditions that we're experiencing up here of melting permafrost and climate change."
A second project will test thermosyphons which will transfer cold surface air to an embankment is aimed at stabilizing permafrost thaw on a section of the Alaska Highway near Beaver Creek.
Mostyn says anyone who has driven to Dawson or Beaver Creek experiences the effects of climate change on the highway first hand.
"That feeling when you're driving down the highway, and suddenly you hit one of those invisible heaves that launches you into the air." Mostyn said.
"In fact, permafrost lies under more than 50 per cent of the Yukon. When that permafrost thaws, the ground shifts, compromising roads, airports, (and) public buildings. We're seeing this more and more in the Yukon."
Both Bagnell and Mostyn say the research projects will help provide concrete solutions to climate change impacts on northern transportation systems.
MP @LarryBagnell says two northern transportation research projects focusing on climate change impacts will involve #Yukon Highways and Public Works as well as @yukoncollege and @Carleton_U. pic.twitter.com/oAinkkbWPq

— Tim Kucharuk (@TimKucharuk) October 11, 2018