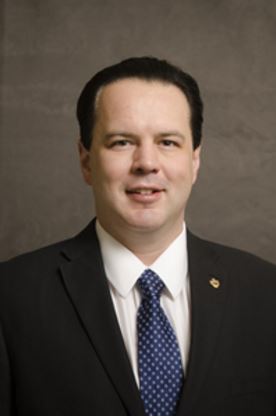 Yukon Party Finance Critic Brad Cathers (Online Photo/Yukon Legislative Assembly)
Finance Critic Brad Cathers says the territory was in good financial standing before the Liberals took over.
The opposition Yukon Party finance critic says the Yukon Liberal government should manage growth and fiscal restraint, instead of looking at a sales tax to bring in more revenue.
Brad Cathers doesn't agree with the recommendations of the Financial Advisory Panel, noting a public accounts review indicates the territory was left in good financial shape when the Liberals took over.
Cathers also takes issue with the public input process into the panel's recommendations.
"There's nothing preventing someone in Toronto from sitting at a desk and filling the form out 50 times so while the government is claiming to have heard form 200 Yukoners, we have really no proof. We have no idea how many times staff of the Liberal Cabinet Office may have filled out that survey or who else might have submitted more than one time."
Cathers says he's not impressed with the recommendations, noting a sales tax is the wrong way to go, and it should be up to government to manage growth and restraint.
"The Liberal government primarily has a spending problem, not a revenue problem. We believe that the right solutions would be to manage the annual rate of growth of government in fact, through measures including reduced taxes to set the stage for economic growth across all sectors of the economy."
As for the panel's recommendation to move healthcare spending away from facilities and personnel to housing and social spending, Cathers says the government of the day needed to make preventative care investments in facilities, and the acute care system.