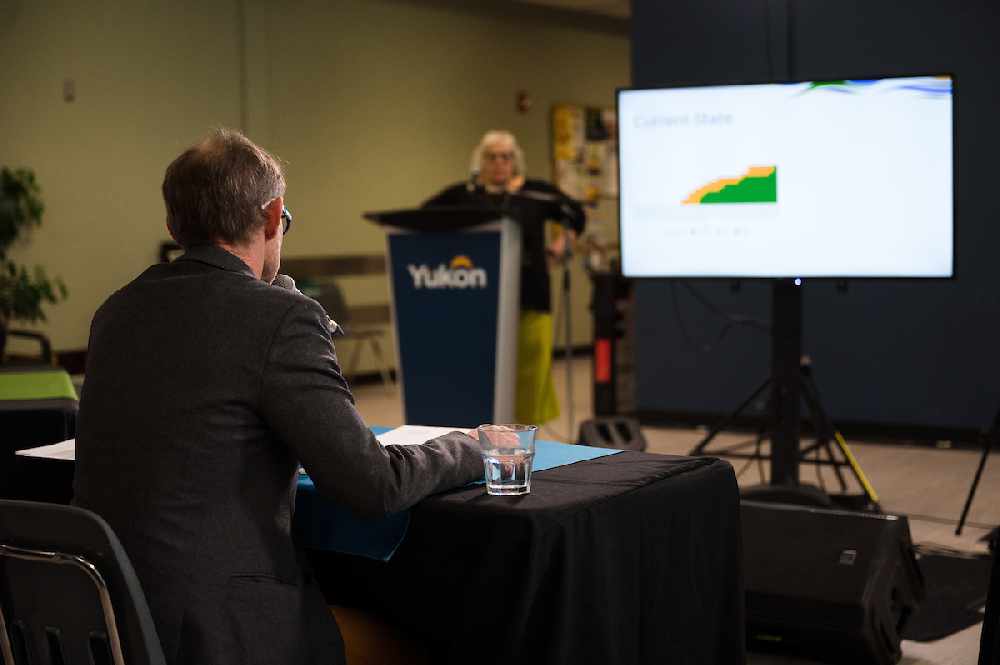 CMOH Dr. Brendan Hanley goes over modelling charts Tuesday afternoon as Pat Living from Health and Social Services observes in the background. Photo: Alistair Maitland/Yukon Government.
CMOH Dr. Brendan Hanley says there would have been thousands of cases in the territory had public health measures not been put in place.
Yukon's Chief Medical Officer of Health says models show the public health measures put in place worked to stop the spread of COVID-19 in the territory.
In a technical briefing Tuesday afternoon, Dr. Brendan Hanley outlined three scenarios of what could have happened with no measures, measures 14 days after the first case, and measures before the first case.
He says it took about four to six weeks to tailor the models to Yukon, and they'll be used going forward.
"Then we can get to a better place," Hanley said. "I hope to be able to use modelling to help us balance COVID prevention with (the) prevention of unintended consequences."
The models show with no measures, Yukon could have seen almost 2,000 cases after 66 days. That would have put 77 people in hospital and 23 in intensive care.
Measures put in place after 14 days indicate there would have been 67 cases total and four active cases.
Hanley says we followed scenario three (see tweet below) as measures were put in place before the first case.
"Clearly public health measures--including the safe six--are going to be important in the weeks and months to come," Hanley said.
"We know they're effective, we've shown they're effective. The modelling data shows us the effectiveness of public health measures and that's the way we need to continue."
The territory has had 11 cases--all now recovered. There have been no hospitalizations.
Hanley says data was used from other countries, as well as Canada and from within the territory in developing the models.
Here's what it would have looked like with measures after 14 days since 1st case. pic.twitter.com/sWGoQu7ZWM

— Tim Kucharuk (@TimKucharuk) May 26, 2020
Finally, numbers and new information for today: pic.twitter.com/y7G4ons7Nu

— Tim Kucharuk (@TimKucharuk) May 26, 2020