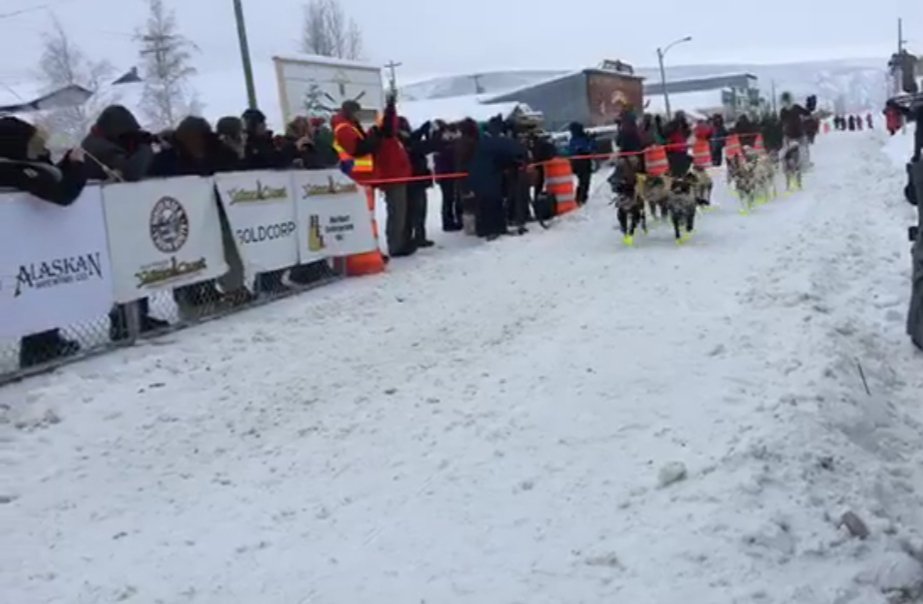 Brent Sass arrives in Dawson. Photo: Yukon Quest/Facebook.
Updated: Brent Sass is the first to arrive in Dawson just before 11:30 a.m. and is followed by three others within the hour.
If he finishes the Yukon Quest, Brent Sass will have a few nuggets of gold jingling in his pocket.
The Eureka, Alaska musher was the first into Dawson at 11:24 a.m. Tuesday.
If he completes the 1,000 mile journey to Fairbanks, Sass will pick up the Dawson Award consisting of two ounces of Klondike placer gold.
He told reporters he had no intention of being into Dawson first, as he put together a schedule.
Sass says adding four dogs at Pelly Crossing helped his team's spirit, especially one of his leaders Jeep.
He said it was a "wacky" first bit to Pelly with the trucking between Braeburn and Carmacks as it threw a wrench in his schedule, but after Pelly it was back to normal.
Tagish musher Michelle Phillips arrived 27 miniutes after Sass, saying she was happy to see Dawson, and there's been some nice trail so far.
One dog was in the bag after suffering a shoulder injury outside of Dawson, and Phillips says she plans on dropping the dog named Racine.
Whitehorse musher Hans Gatt arrived just after noon with 13 dogs.
He said there was a lot of snow coming into Scroggie Creek, and the run over the Dome went as planned.
Allen Moore ran into town at 12:16 p.m.
The defending champion said last year was a "magic carpet ride" but this year is different with the changes during the first 100 mile run, as it "knocked their socks in the dirt a bit."
He hopes the 36 hour rest will help get them back on track.
Paige Drobny arrived about 2 p.m.
Denis Tremblay and Matt Hall were the next mushers set to arrive in Dawson Tuesday afternoon.
(Updated 2:00 p.m.)
__________
Lead changes and familiar names are at the top of the Yukon Quest leaderboard.
Mushers are tackling one of the more difficult parts of the 1,000 mile dog sled race on Tuesday--the 1,234 metre King Solomon's Dome south of Dawson.
The first to Dawson, and to go on and finish the race will get two ounces of Klondike placer gold.
Mushers will have to rest 36 hours before continuing their journey.
As of 8 a.m Tuesday, leader Brent Sass was 50 kilometres south of Dawson, followed by Allen Moore, Michelle Phillips, and Hans Gatt.
Denis Tremblay was stopped at the top of the dome.
Matt Hall was sixth, Ryne Olson seventh, and Page Drobny eighth, as they were approaching the Dome.
Nathaniel Hamlyn, and Torsten Kohnert round out the top ten, and Curt Perano was 11th as all three have left Scroggie Creek.
Six mushers are at Scroggie Creek, while six others are between Stepping Stone and Scroggie.
Jimmy Lebling is at Stepping Stone, Lisbet Norris is closing in on the hospitality stop.
Red Lantern Remy Leduc and his 14 dogs left Pelly Crossing about 6 a.m. Tuesday.
Meantime, Race Marshal Doug Harris tells the RUSH, everything went smoothly on Sunday as teams had to truck between Braeburn and Carmacks due to poor trail conditions.
Harris says volunteers were well organized, and the mushers were understanding of the situation.