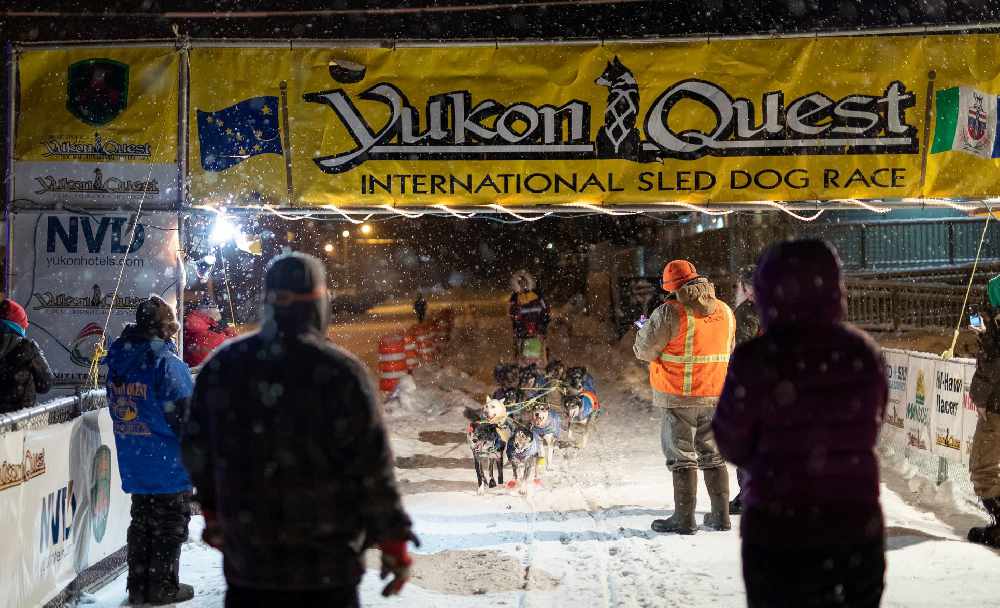 Welcome home. Dawson's Brian Wilmshurst arrives at the halfway point of the Quest after 2 a.m. Wednesday morning. He's in 15th place. Photo: Julien Schroder/Yukon Quest.
Over half of the field is resting for 36 hours in Dawson, while the rest push toward the halfway point.
Dawson is serving as the hub of the Yukon Quest 1,600 kilometre dog sled race on Tuesday and Wednesday.
18 mushers have pulled into town for their 36 hour layover as of 8 a.m. Wednesday.
The latest to arrive is Olivia Shank Neff at 7:12 a.m. Wednesday, while Deke Naaktgeboren pulled in 12 minutes later.
Brent Sass from Eureka, Alaska was the first to Dawson just before 11:30 a.m. Tuesday followed within the hour by Tagish musher Michelle Phillips, Hans Gatt of Whitehorse, and Alaska's Allen Moore.
Paige Drobny arrived in Dawson to sounds of Happy Birthday just after 2 p.m. as it was her birthday on Tuesday.
Quebec's Denis Tremblay arrived just after 3 p.m.
He was followed in 7th place by Matt Hall just before 6 p.m. as Hall told the Quest's social media page he had a good run into Dawson.
"Slowed down a little bit with the snow which was awesome to have." Hall said.
'It was kind of like walking in sand, a little soft. Then we were running right in the heat of the day at that point. Once we came off the Dome, (the dogs) knew where Dawson was at, and they were crankin'. They're looking really good."
Hall had to drop a dog in Pelly, as one of his longtime leaders Salcha was brought back to Whitehorse to be examined where it was found she had cancer. Hall says he needed some trail time to process the news.
9 other mushers are resting in Dawson, while 10 others are between Scroggie Creek and Dawson, and should arrive throughout the day Wednesday.
Jimmy Lebling was resting at Scroggie Creek, while Lisbet Norris is in the Red Lantern position, as at last check, she was on the move to Scroggie Creek.