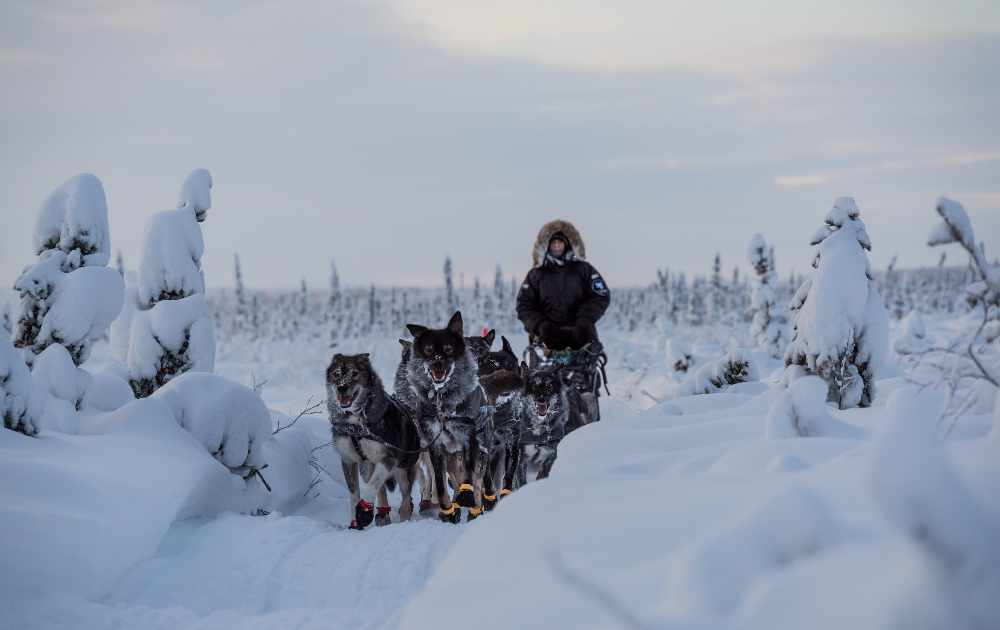 Mushers in the Yukon Quest are almost at the halfway point of the race. Photo: Whitney McLaren/Yukon Quest/Facebook.
Alaska musher Brent Sass continues to lead the Yukon Quest with Yukoner Michelle Phillips hoping to make up ground before hitting the Canada-U.S. border.
Eagle, Alaska is a busy place as mushers in the Yukon Quest stop for their four-hour mandatory layover.
Brent Sass was the first to Eagle Tuesday evening. The two-time champion completed his layover early Wednesday morning and set out to traverse the over 1,000 metre American Summit.
Sass was followed out of Eagle just over an hour later by Tagish musher Michelle Phillips. At last check, Phillips was descending the summit and was 13 kilometres behind Sass who was also making his descent.
Cody Strathe is in third and left Eagle just after 6:30 a.m. Pacific Time. He was followed 10 minutes later by Allen Moore.
Torsten Kohnert and Ryne Olson were into their four-hour Eagle layovers as of this posting.
Nora Själin was pushing for Eagle and should arrive mid-Wednesday morning.
Richie Beattie, Whitehorse's Rob Cooke, and Chase Tingle were resting at the Trout Creek Hospitality Stop, while Dave Dalton was closing in on Trout Creek. Pat Noddin camped outside Trout Creek overnight and was on his way about 7 a.m.
In the Red Lantern position, Olivia Webster left Slaven's Roadhouse early Wednesday morning.
According to the Quest PR team on social media, mushers say the trail on the Alaska side is wind-swept and they are often left guessing as to where the trail is.
Canadians Jason Campeau and Denis Tremblay scratched at Circle on Tuesday, leaving 13 mushers in the race.