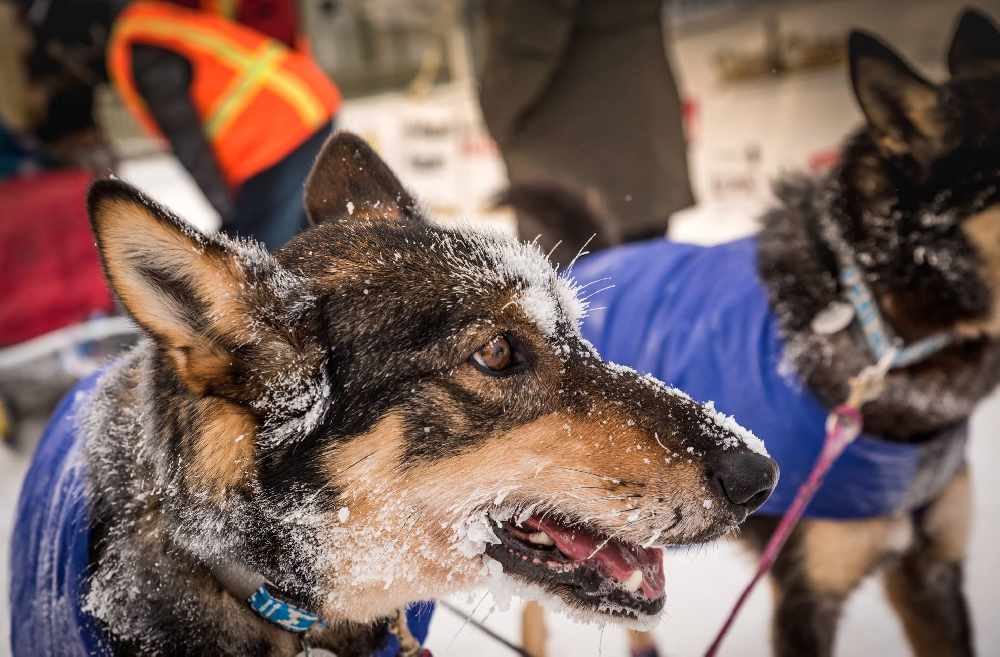 Noses pointed toward Alaska. Mushers in the Yukon Quest are leaving Dawson after their 36 hour layover. Photo: Whitney McLaren/Yukon Quest.
The leaders are nearing the Alaska border, as most of the field is leaving Dawson City.
Dawson City is bidding farewell to mushers in the Yukon Quest.
The 1,600 kilometres dog sled race saw the leaders leave overnight, with Alaska's Brent Sass departing just before 11:30 p.m. Wednesday and followed within the hour by Yukoners Michelle Phillips and Hans Gatt, and defending champion Allen Moore from Two Rivers, Alaska.
All four are taking a break at Clinton Creek as of 8 a.m. Thursday.
Paige Drobny left Dawson in fifth place just after 2 a.m. Quebec's Denis Tremblay pulled out just before 4 a.m. 2017 winner Matt Hall at 5:43 a.m. and Ryne Olson at 6:30 a.m.
Torsten Kohnert, Whitehorse's Nathaniel Hamlyn, and Martin Apayauq Reitan can leave Thursday morning, while 12 others can leave before midnight.
Chase Tingle from Two Rivers, Alaska arrived in Dawson early Wednesday afternoon, and told the Quest's Social Media page he was followed by a wolf outside of town.
"I don't want to say chasing, but he was following intently. He wasn't out to get us, but he was right on our heels." Tingle said.
"Curious. I don't know what his entire intentions were but this went on for about (1 kilometre) and I did everything to spook him off. I banged my (pole) and grabbed my axe, and was waiving it and banging it on stuff. I even thought about lighting my fuel bottle."
There's two mushers still to arrive in Dawson for their 36 hour layover--Jimmy Lebling and Lisbet Norris.
Both are 60 kilometres from Dawson as of 8 a.m.
Officials met with mushers and the media late Wednesday afternoon, in Dawson to update trail conditions in Alaska.
There's drifting snow on the American Summit and lots of windblown ice and snow, and jumble ice along the trail with overflow on creeks between Mile 101 and Two Rivers.
Officials say the Fairbanks finish line has been changed from the Chena River to the Morris Thompson Culture and Visitors Centre.