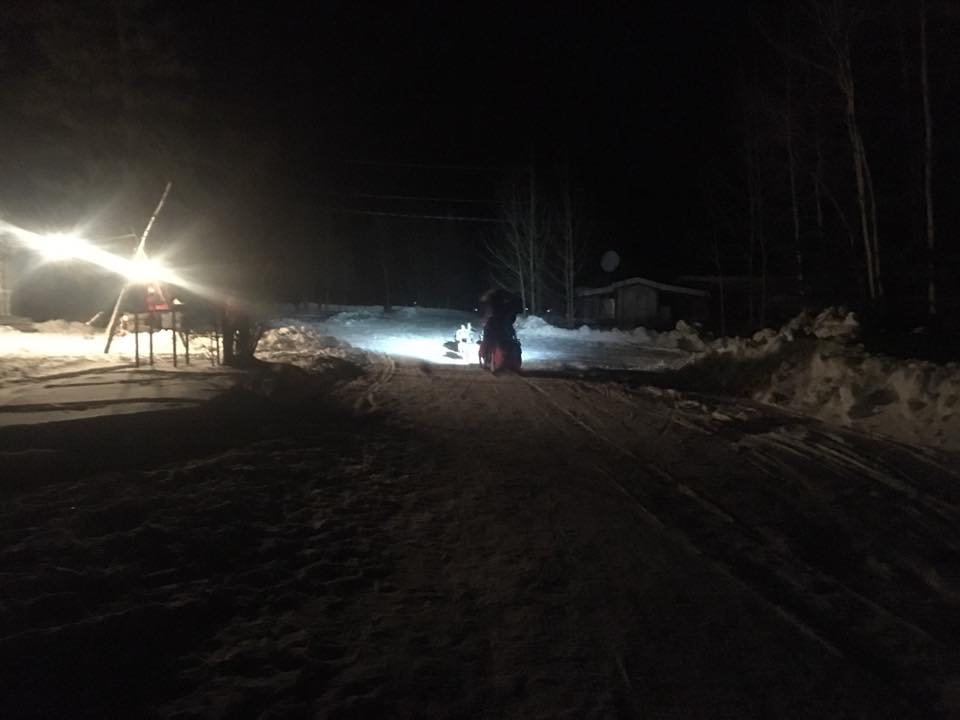 Alaska musher Brent Sass departs from the Eagle checkpoint Friday morning. Photo: Yukon Quest.
The leaders push into the interior of Alaska as most of the field heads for Eagle.
The leaders in the Yukon Quest are flying out of Eagle.
Two Rivers, Alaska musher Allen Moore was the first to depart from his four hour mandatory layover just before 5 a.m. Pacific time Friday morning, with Brent Sass and his full team of 14 hot on his heels less than a half hour later.
Sass has caught up, and the two are running neck and neck as of 8 a.m, as they were 30 kilometres from the Trout Creek Hospitality Stop.
Whitehorse musher Hans Gatt was next to leave Eagle 12 minutes after Sass, and Michelle Phillips followed after 5:30 a.m. however, it's Phillips who has jumped up into the third position, and was 10 kilometres back of the leaders at last check.
Rounding out the top five is Paige Drobney who can leave after her four hour layover at 9 a.m.
Matt Hall, who grew up in Eagle, pulled in at 6:45 a.m. Pacific time, and was welcomed by his parents who run the Eagle checkpoint.
Hall was followed over a half hour later by Denis Tremblay, while Ryne Olson was slated to be the next to arrive.
Torsten Kohnert, Nathaniel Hamlyn, Martin Apayauq Reitan, Jesse Royer, and Cody Strathe were tackling the American Summit.
Brian Wilmshurst and Curt Perano have just crossed the Alaska border.
Seven mushers were stopped at Clinton Creek, while five others left Dawson early Friday morning.
Remy Leduc was the latest to leave Dawson just before 7 a.m.
Lisbet Norris was the last musher to reach Dawson after 10:30 Thursday night, and is not eligible to leave until Saturday morning.
Two have scratched from the race, as Jimmy Lebling was the first to scratch in Dawson for the well-being of his team, and Olivia Shank Neff did leave Dawson Thursday night, but returned to town a few hours later and scratched for unknown reasons.