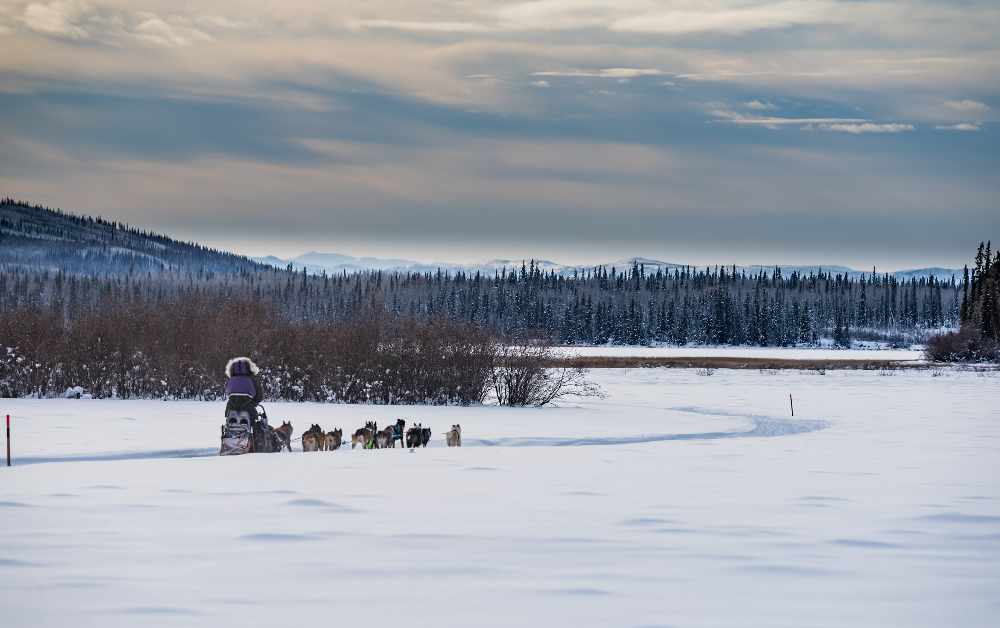 Tagish musher Michelle Phillips is seeking her first Yukon Quest title. She's running with Brent Sass for the lead as the Quest reaches southern Yukon. Photo: Whitney McLaren/Yukon Quest/Facebook.
A musher from Yukon and Alaska are heading for the final checkpoint of the 1,600-kilometre dog sled race.
It's shaping up to be an exciting finish to the 37th Yukon Quest.
After a weekend of lead changes, Alaskan Musher Brent Sass is in first place as of noon Pacific Time Monday. He was 40 kilometers away from Braeburn according to the SPOT Tracker on the Yukon Quest webpage.
Yukoner Michelle Phillips is close behind just one kilometre back. There have been three lead changes on Monday alone, with the two taking turns in first place since leaving Dawson.
Third place musher Cody Strathe left the Carmacks checkpoint at 9:42 a.m. heading for Braeburn.
Three-time champion Allen Moore was closing in on Carmacks early Monday afternoon in fourth place.
Ryne Olson took to the trail at Pelly Crossing in fifth place late Monday morning leaving Sweden's Torsten Kohnert behind.
Rookie Nora Själin was stopped 25 kilometres from Stepping Stone in seventh place.
Richie Beattle and Whitehorse musher Rob Cooke were within 41 kilometres of Stepping Stone, while rookie Pat Noddin was 85 kilometers from the hospitality stop Monday afternoon.
In the Red Lantern position, Olivia Webster crested the top of the American Summit late Monday morning.
There are 11 mushers still in the race, with both Case Tingle and Dave Dalton choosing to scratch on Sunday afternoon. Both said their teams were battling a stomach virus.