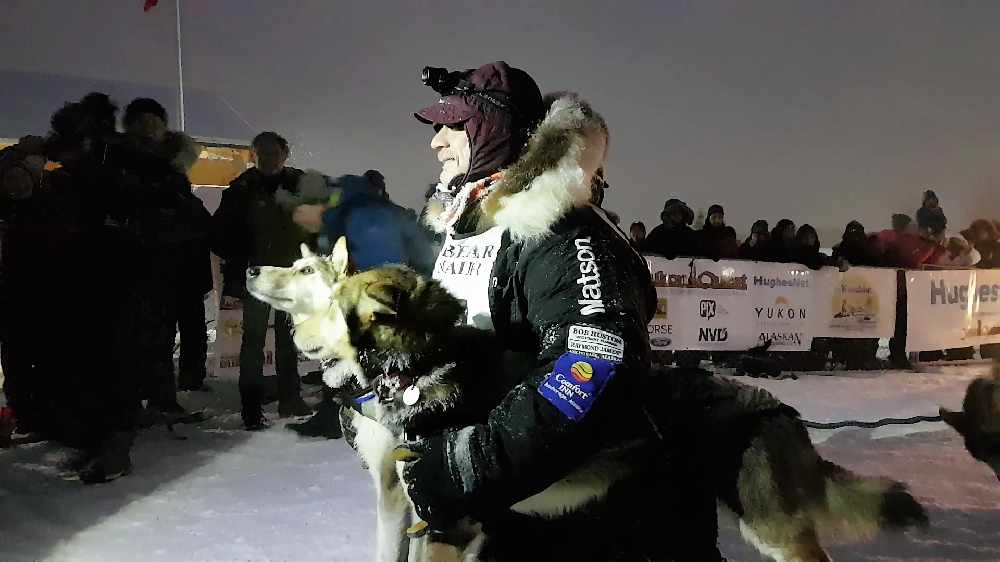 The last time the Yukon Quest finished in Whitehorse in 2018, Alaska's Allen Moore took the title. Photo: Tim Kucharuk/CKRW file.
15 mushers in the 37th annual international sled dog race are pursuing a share of the $100,000 US purse.
The 37th Yukon Quest dog sled race hits the trail in Fairbanks Saturday.
15 mushers will tackle 1,600 kilometres of terrain with the first teams arriving in Whitehorse about 10 days later.
This is the first time as Race Marshal for Peter Reuter. He says the vets and race officials are ready to go.
"Our preliminary trail reports (indicate) we have a consistent trail--as it stands now," Reuter said. "Of course it is a (1,600 kilometre) race so you're going across some of the toughest terrain on earth. Trail's in good shape. We're set for a great Fairbanks start."
Reuter says he's not concerned with the number of mushers heading to the start line, even though it's half of what it was last year.
"Every race that I've been associated with--as a musher and a judge--there's ebbs and flows," Reuter said. "It's hard to predict. Of course, we would be nice to see more mushers, but we've got a great field. We're looking for a very competitive race."
There are 12 veterans including former champions Allen Moore and Brent Sass in the race. Sass took last year's race, with Moore winning in 2018. Three rookies are in the field. Rob Cooke and Michelle Phillps are the entrants from Yukon.
Thursday night's start banquet saw Alaska musher Richie Beattie draw bib number 1.
21 mushers will participate in the YQ300 also leaving Fairbanks Saturday afternoon.
The RUSH will have live coverage of the first two mushers to leave Fairbanks starting just before noon Pacific Time on Saturday.