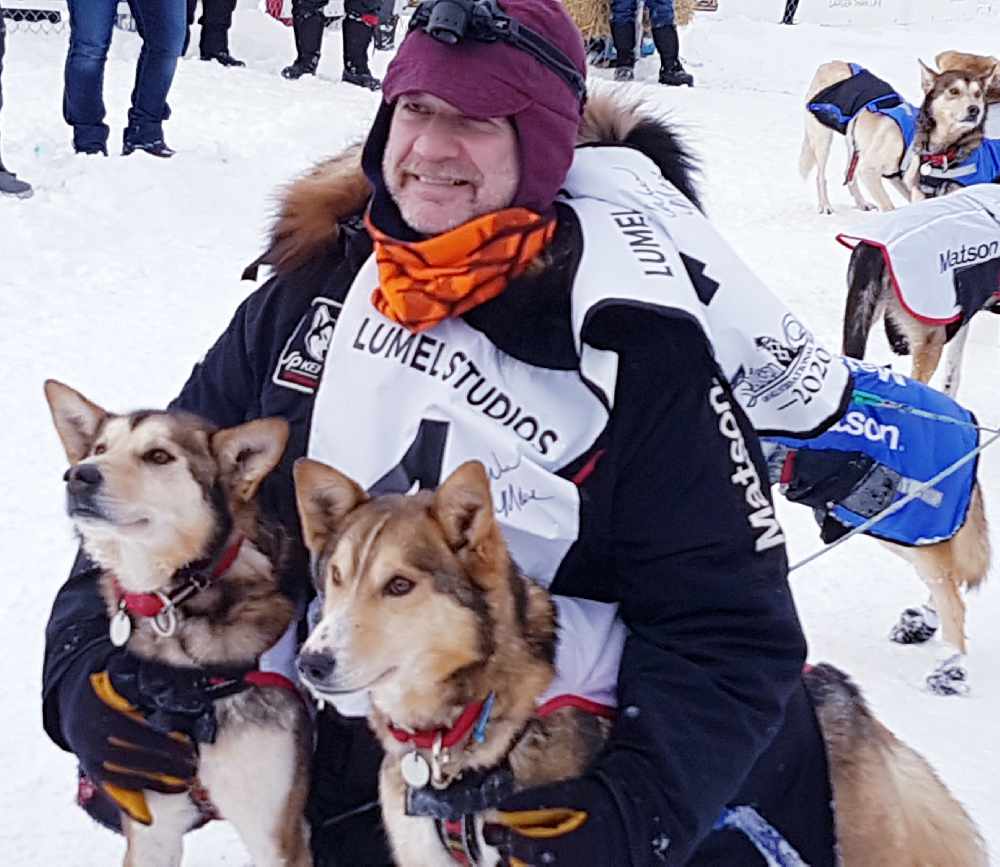 Alaska musher Allen Moore at the finish line in Whitehorse Wednesday afternoon. Photo: Tim Kucharuk/CKRW.
Allen Moore was the fourth musher to cross the Whitehorse finish line Wednesday afternoon as the race rolls on.
More mushers are crossing the finish line in the 37th Yukon Quest as the race hits Whitehorse.
Two Rivers, Alaska musher Allen Moore, and his 12 dogs finished at 1:20 p.m. in fourth place. The team was greeted by his handlers as well as partner Aliy Zirkle.
"The closer we got just around the corner there I was waist-deep trying to find the trail for the dogs," Moore told reporters at the finish line in Shipyards Park. "It took a while. It got better right around here. The snow is just piling up right exactly where the trail is; that's the bad news."
"The good news is I'm past it."
The three-time champion had some words about Brent Sass and his team who repeated as champions this year. Moore related his own experience as a defending champion from 2013 and 2014, saying you need to have continuity so the team gels together.
"The year before that (in 2012) I lost by 26 seconds," Moore said as he recalled his legendary race with Hugh Neff. "Then I won two in a row, then I got in second again. That was a particular group of dogs, and that's what he has right now."
"The trick is to replace them when they get older. It's hard to do. He has a great team right now."
Allen Moore from Two Rivers, Alaska is the 4th musher to finish the 37th @theyukonquest. He crossed the line in #Whitehorse with 12 dogs and a time of 11 days, 1 hour and 11 minutes. #YQ2020 pic.twitter.com/2CVExBQql3

— Tim Kucharuk (@TimKucharuk) February 12, 2020
Veteran Cody Strathe and his nine dogs from Cantwell, Alaska arrived at 7:35 a.m. Wednesday in third place. He exchanged placings with Moore on a few occasions during the 1,600-kilometre race. Strathe says he did feel the pressure from the three-time champ.
"I definitely was looking over my shoulder the whole way in here," Strathe said. "That guy (Moore) has been in this a long time and is an amazing dog-man."
"He's run the Quest for years. I was thinking he and his team would come around the corner with his poles on the back of that sled and look like a spider flailing around. I kept thinking he was going to catch up with me."
This was the best finish for Strathe out of his six Quest starts.
The Rest Of The Field
Sweden's Torsten Kohnert and his 11 dogs left Braeburn in fifth place at 1:46 a.m. Wednesday and was expected at the finish sometime in the evening.
Ryne Olson left Braeburn Wednesday morning and is also closing in on the finish line.
Top rookie Nora Själin of Sweden is in 7th place and now into her eight-hour rest at Braeburn.
Richie Beattie left Carmacks just before 5 a.m. with 9 dogs and was expected into Braeburn for his layover sometime Wednesday evening.
Whitehorse musher Rob Cooke, who still has a full complement of 14 dogs, left Carmacks at 10:16 a.m. while rookie Pat Noddin and his 10 dogs left during the noon hour Wednesday.
In the Red Lantern position, Olivia Webster left Pelly Crossing just before 11 a.m. with 10 dogs on the line.
Eureka, Alaska musher Brent Sass won the Quest Tuesday afternoon and was followed exactly four hours later by Yukoner Michelle Phillips.