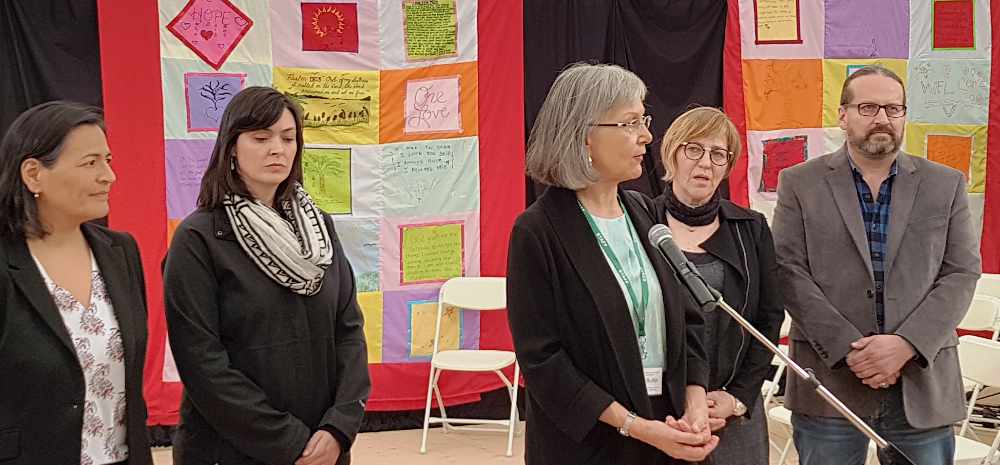 Commissioners of the National Inquiry into Missing and Murdered Indigenous Women during their stop in Whitehorse in May 2017. The Inquiry's final report was delivered on Monday. Photo: Tim Kucharuk/CKRW file.
The territorial government welcomes the report, while First Nation leaders say the work needed to be done and it's time for action.
The chief commissioner of the inquiry into missing and murdered Indigenous women says they are holding up ``a mirror'' to Canada.
Marion Buller made the remark at an emotional ceremony Monday marking the formal release of findings from the inquiry that examined root causes of the violence against Indigenous women and girls.
The much-anticipated report, which contains more than 200 recommendations to multiple levels of government, calls violence against First Nations, Metis and Inuit women and girls a form of ``genocide'' and a crisis.
Buller called for true equality for Indigenous people and called on all Canadians to be part of the solution.
Yukon's Minister of the Women's Directorate says the final report has been a long time coming, but this chapter needed to be written.
Jeanie Dendys says this is a difficult and emotional time for Yukon families of missing and murdered Indigenous women and girls, LGBTQ2S+ individuals, and survivors.
"The National Inquiry is important to them, and to us to help change the story in Canada," Dendys told the RUSH. "This was an important chapter that needed to be researched, written, and told in order for us to change the story as we go forward."
Premier Sandy Silver also released a statement saying the territory will take time to review the report, work on an action plan, and discuss the findings at the Northern Premiers Forum in Dawson City later this month.
Meantime, the Yukon Advisory Committee, who led Yukon's voice at the National Inquiry says the release of the final report is an important milestone for Yukon families of missing and murdered Indigenous women and girls.
Kwanln Dun First Nation Chief Doris Bill says it's important to uphold the truths of the families and survivors who took part in the process and is confident the story can be changed in Yukon.
Liard Aboriginal Women's Society Executive Director Ann Maje Raider says she lost a sister when there was no respect or regard for the rights of Indigenous women, and things are getting better thanks to the Inquiry. She says her sister has finally been given a voice along with so many others.
The Assembly of First Nations Yukon Regional Chief says the results of the National Inquiry show the best way forward is for First Nations to reassert their inherent rights and jurisdiction.
Kluane Adamek says in a statement, this means taking back control of governance systems, healing mechanism, child and family services laws and systems, culturally-relevant education improvements, and increased access to addictions and treatment programming and health care delivery.
(With copy from The Canadian Press.)
(Below: Yukoners watch the public hearing and statement gathering in an overflow tent when the commissioners were in Whitehorse in May 2017. Photo: Tim Kucharuk/CKRW)