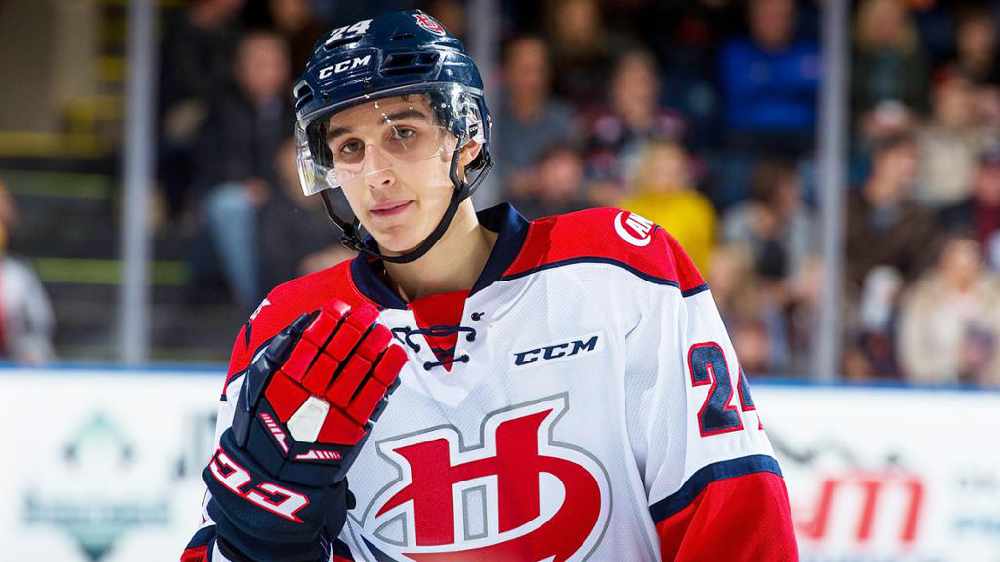 Whitehorse minor hockey product Dylan Cozens in action with the WHL's Lethbridge Hurricanes. Photo: NHL.com.
Dylan Cozens of Whitehorse is expected to be picked in the first round of Friday's NHL Draft in Vancouver.
Yukon hockey history will be made in Vancouver on Friday.
18-year-old Dylan Cozens of Whitehorse is expected not only to hear his name called in the first round of the NHL draft becoming the first Yukon-born player to have that honour, but his final draft ranking suggests he could go in the top five.
Martin Lawrie coached Cozens off and on from when he was six through his bantam season. He says Cozens compete level was high from an early age.
"I've told a few people I don't think I've ever been on the ice with anybody who has hated to lose as much as him and loved to score as much as him," Lawrie told the RUSH. "And that was right from the very beginning."
Lawrie says Cozens 6 foot 3-inch frame, skating, and right-handed shot should translate into the pro game.
He adds Cozens shows the territory is a great place to develop world-class athletes.
"We've got unbelievable facilities, we've got great coaches around the community, and great opportunities for the kids here," Lawrie said. "A number of sports have been producing elite and high-level athletes, and I'm not surprised we're starting to see a couple in hockey as well now."
Lawrie says there are other Yukon hockey players who could be making some noise in the coming years, including 11-year-old Gavin McKenna.
Yukon has also produced three Olympians in recent years, with cross-country skiers Emily Nishikawa, Dahria Beatty, and Knute Johnsgaard competing in the 2018 Winter Olympics.
As for his prediction where Cozens will be drafted, Lawrie says he could go anywhere between three and seven, but he believes teams will be drafting more by need, instead of ranking by talent.
A draft watch party is being put on by Special Olympics Yukon late Friday afternoon at Sport Yukon in downtown Whitehorse.
Other Yukoners to be taken in the NHL Draft were Jarrett Deuling, who was picked 56th overall by the New York Islanders in 1992, and Bobby House who was taken 66th overall by the Chicago Blackhawks in 1991.
Meantime, Hockey Canada announced on Wednesday, Cozens was one of 43 players selected to the National Junior Team's Summer Development Camp.
The camp will take place from July 27th to August 4th in Plymouth, Michigan.
(Audio: Senior Reporter Tim Kucharuk in conversation with Whitehorse minor hockey coach Martin Lawrie.)