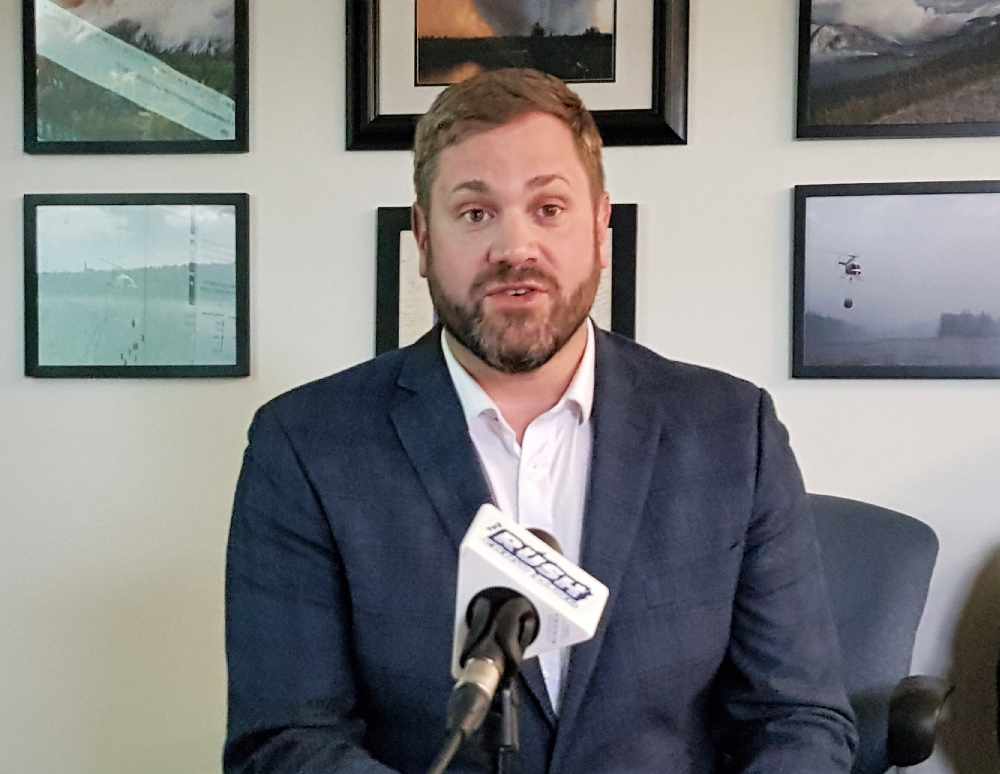 Damien Burns with Wildland Fire Management outlines the upcoming season for reporters on Thursday afternoon. Photo: Tim Kucharuk/CKRW.
While officials say there are dry conditions in the central and southern part of the territory, Wildland Fire Management says they are prepared for whatever comes their way.
Yukon Wildland Fire Management says while it's dryer than normal in the central and southern part of the territory, it's tough to predict how the fire season will turn out.
Chief Meteorologist Mike Smith says the snow-free date in many areas happened about a month earlier than expected, which will give those ground fuels extra time to dry out.
He also says temperatures will be above normal.
"I have a high degree of confidence saying by July 1st if I sum up all the numbers, we probably will turn out to be warmer than normal throughout the territory," Smith said. "But what that's missing is how does that come about is every day one degree above normal, or do we have one week of 30 degrees (that is) hot and dry."
Director Damien Burns says the full complement of crews will be ready to go for the season Wednesday.
"No matter what the weather predictions tell us, we do remain prepared at every point in the summer to respond to wildfires as they might occur," Burns said. "We are prepared to respond with some of the best fire crews in the world. In Yukon, we have the highest level of training available in Canada, and some of the best resources available."
Burns asks Yukoners to remain vigilant in the outdoors so no human-caused fires are sparked.
As for what it costs each year to fight wildfires, Burns says the five-year average has the price tag coming in at about $10 million dollars per year.
(Smith goes over the weather conditions during Thursday's media briefing. Photo: Tim Kucharuk/CKRW)