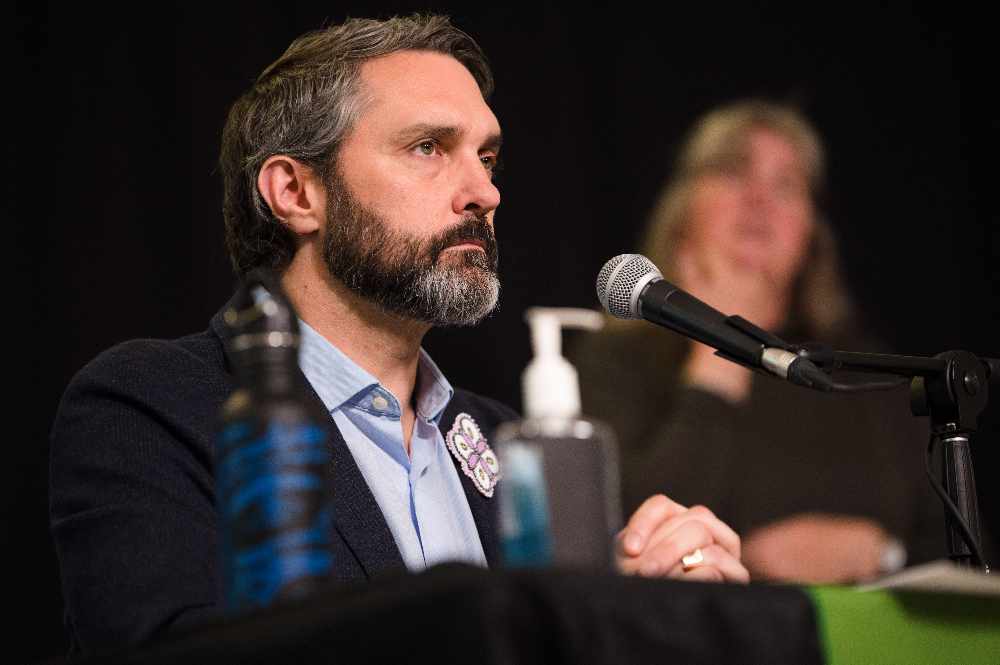 Facing the music: Premier Sandy Silver answers questions submitted to the public. Photo by Photo by Alistair Maitland Photography
The Yukon Government and Chief Medical Officer of Health provided a progress update on easing COVID-19 restrictions in Yukon.
The Yukon Government is considering moving into Phase 2 of Yukon's re-opening plan
During Friday afternoon's COVID-19 update, Yukon Premier Sandy Silver confirmed that if conditions continue trending positively Yukon is on track to begin Phase 2 on July 1st.
Silver says in phase 2, Yukoners will be able to travel between Yukon and British Columbia with no 14 day isolation period
Dr. Brendan Hanley says there will be a careful risk assessment and community engagement when determining the feasibility of transitioning to another phase of the plan.
"We need to be prepared to open borders gradually when we are confident that the risk of importation of COVID is low. As you know, B.C. has demonstrated a successful flattening of the curve, due to their strong public health response."
As of Friday afternoon, there were 1,176 people tested, with 1,155 negative results and 10 pending tests.
Both Hanley and Silver answered questions from the public during the town hall portion of the update.
CHILDREN AND CHILD CARE IN YUKON
A question from the public asked if the Yukon Government is going to be funding childcare in the post-COVID19 world?
Silver says the government knows that childcare is an important part of all Yukon Communities. He says "the government will absolutely be looking at what kind of childcare supports we can provide for operators across the territory."
Addressing a question regarding how susceptible children are to COVID-19, Dr. Hanley says children can contract the virus, however, it's been noted across the country that children do get COVID both less often and less severely than adults.
TRAVEL IN YUKON
Silver answered a question asking how visitors travelling through the territory are being tracked?
Silver says the Yukon Government is educating travellers as they enter the Yukon, and are asking them to travel straight to their destination. He says the RCMP is available in all communities to enforce CEMA orders. "We've set up roadside information stations outside of Whitehorse to ensure travellers in transit through Yukon understand their mandated route through the territory, and also so they understand the restrictions in place under the Civil Emergency Measures Act (CEMA).
LONG TERM CARE
One question asked why isn't the Yukon Government focusing on long term care homes, rather than all residents in Yukon?
Silver says the Yukon Government took early actions to protect residents living in Yukon Long Term Care homes. He says "We have five long term care facilities in Yukon, all of which are government-run. They're not for profit. We're very fortunate that all of our long term care homes have single rooms; This is a significant advantage we have over other jurisdictions should we need to contain an outbreak."
You can hear the full Q&A with Yukon Premier Sandy Silver and Chief Medical Officer of Health Dr. Brendan Hanley below: