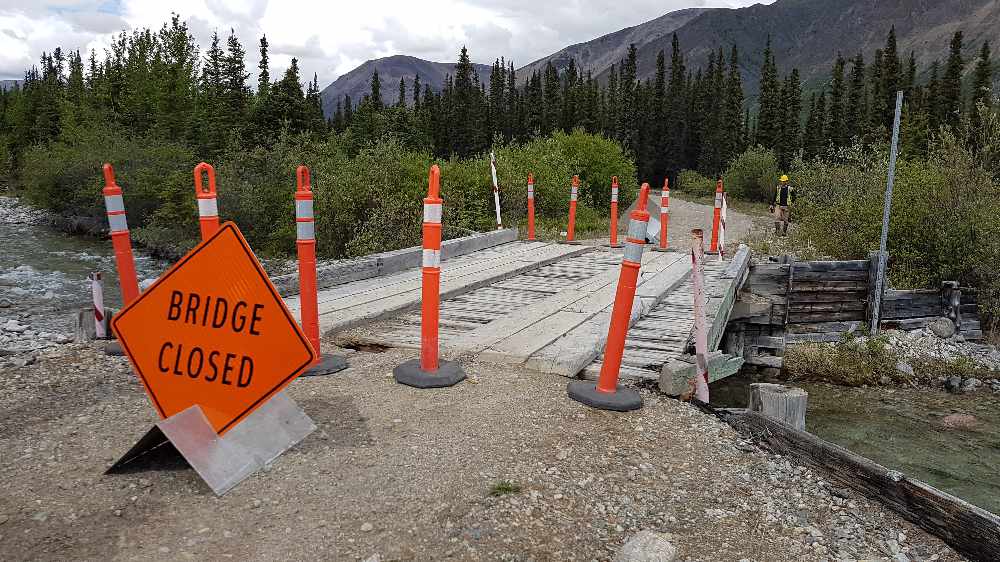 The bridge over Becker Creek on the Annie Lake Road. Photo: Tim Kucharuk/CKRW.
Trevor Braun with Yukan Canoe says while vehicles should not be allowed on the Annie Lake Road bridge, it could still be used by hikers and others.
The owner of a canoe company who uses a bridge on the Annie Lake Road shut down by the Yukon Government this week says he's glad to hear Highways and Public Works isn't taking immediate action to remove the structure.
Engineers determined the bridge over Becker Creek at kilometre 37 of the road south of Whitehorse had rot and cracks in the structure and put barriers on the bridge to prevent vehicles from crossing it on Monday.
Yukan Canoe owner Trevor Braun says he agrees the bridge shouldn't be driven across.
"I went out there last week and was actually underneath the bridge with a hammer tapping on the beams," Braun said. "Some of the supports are a little rotted, and one is totally rotted, but I can't see it taking a huge amount of dollars unless they want to go crazy and make something heavy duty."
"Even keeping it in for a footbridge or an ATV bridge would be great."
He says there should still be access to the Wheaton Valley.
"I hope we get to some positive conclusions and keep some prime outdoor access open for people," Bruan continued. "(The Wheaton Valley) really is a special place, and I think we could promote it a lot more."
Highways and Public Works says, for now, the bridge will just be closed, and no decision has been made on its future.