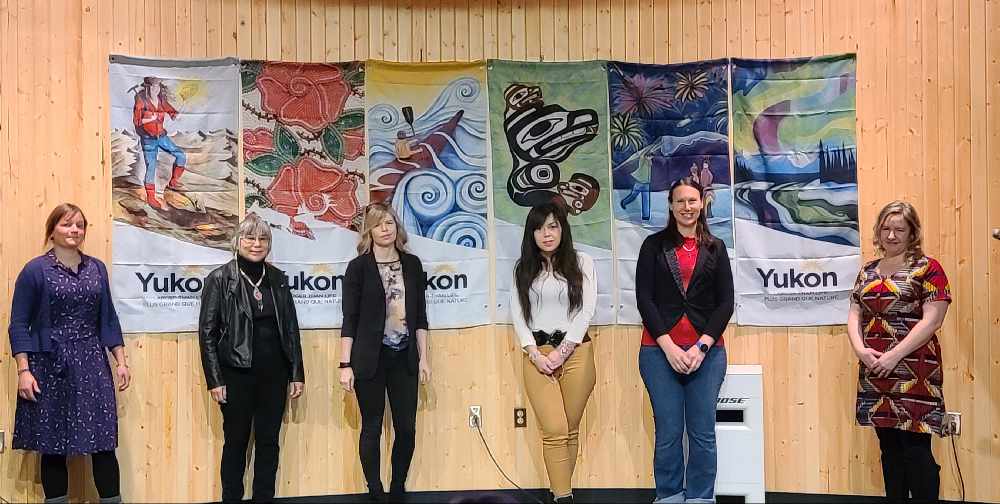 The six artists with their work at the unvieling Monday morning. Photo: Tim Kucharuk/CKRW.
The banners will be placed at Visitor Information Centres around the territory, and also be incorporated into other products.
This year's tourism banners which will adorn Visitor Information Centres and other high-visibility locations around the territory are being launched in recognition of Women's History Month.
Tourism and Cultural Minister Jeanie McLean helped unveil the banners featuring the artwork of six Yukon women Monday morning.
She says this year has been a difficult one for the arts, culture, and tourism sectors, but the artists selected have persevered.
"The ability for artists like these six that we're featuring here, to both lead the industry with vision, and lean on one other for support, is what makes the Yukon arts community truly unique," McLean said.
One of the artists, Esther Bordet, says the artists represent unified voices under different expressions.
"Really a big diversity of techniques that really shows the diversity of expressions and voices," Bordet said.
"All together, we have these voices actually are combined under a set of common themes that really speak about the love we all share for Yukon and its lifestyle."
The other artists featured include Emma Barr, Amber Church, Maegan Garrett, Violet Gatensby, and Sharon Vittrekwa.
The banners highlight the territory's culture and wilderness.
One of the featured artists--Emma Barr--talks about being picked. pic.twitter.com/hFEo94rBNr

— Tim Kucharuk (@TimKucharuk) October 5, 2020