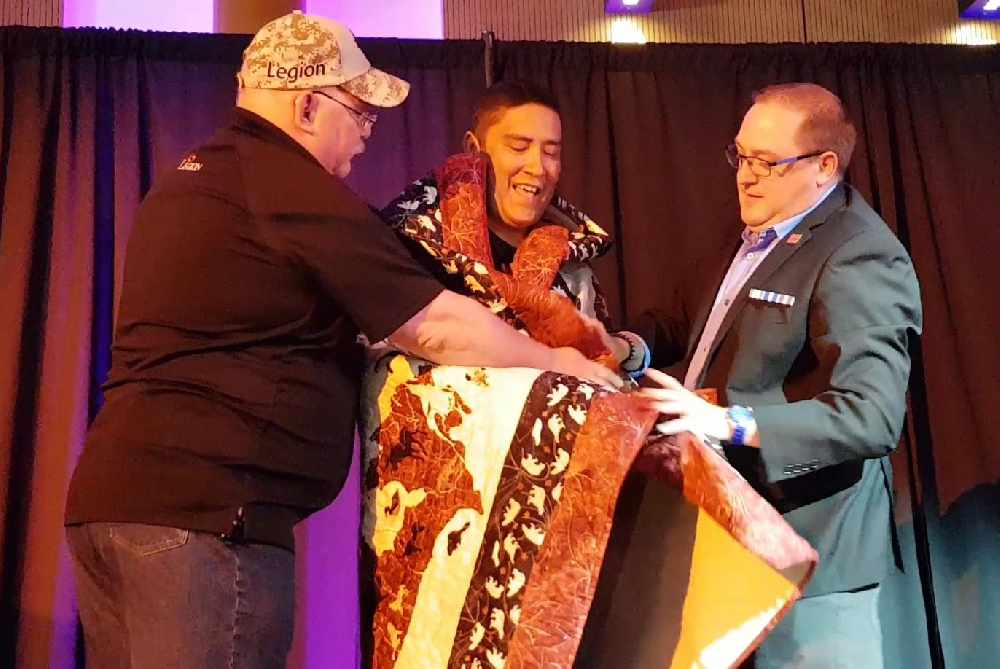 Joe Mewett (left) and Terry Grabowski from the Royal Canadian Legion in Whitehorse wrap Tizya in the quilt Friday afternoon. Photo: Tim Kucharuk/CKRW.
Retired Corporal Douglas Tizya was in town visiting family and friends when he was surprised by Friday's ceremony in Whitehorse.
A Vuntut Gwitchin First Nation citizen is being honoured with a Quilt of Valour.
Retired Corporal Douglas Tizya was presented a handmade quilt comprised of a map of Canada with animal and other symbols on Indigenous Peoples Day on Friday.
The presentation on behalf of Quilts of Valour Canada by the Royal Canadian Legion Branch 254 in Whitehorse garnered a standing ovation from family, friends, and onlookers at the Kwanlin Dun Cultural Centre.
Tizya, who was in town from Manitoba, says he had no idea about the presentation.
"(The presentation) just hit me like a ton of bricks," Tizya told the RUSH. "I'm really emotional right now. You come home--I don't live here anymore--you come home and you experience this it's wow. I feel so honoured and grateful and loved."
He says the quilt has given him a boost after overcoming post-traumatic stress disorder, and addiction.
"Now I can go home with my head a little bit higher, feeling like there is more hope in this world for me, and for my children."
He spent his school-age years in Whitehorse going to Christ the King Elementary, and FH Collins Secondary before joining the army at age 21. Tizya was wounded during his second tour of duty in Afghanistan in 2006. He now lives in Brandon where he is a truck driver.
(Tizya with the quilt after Friday afternoon's ceremony. Photo: Tim Kucharuk/CKRW.)