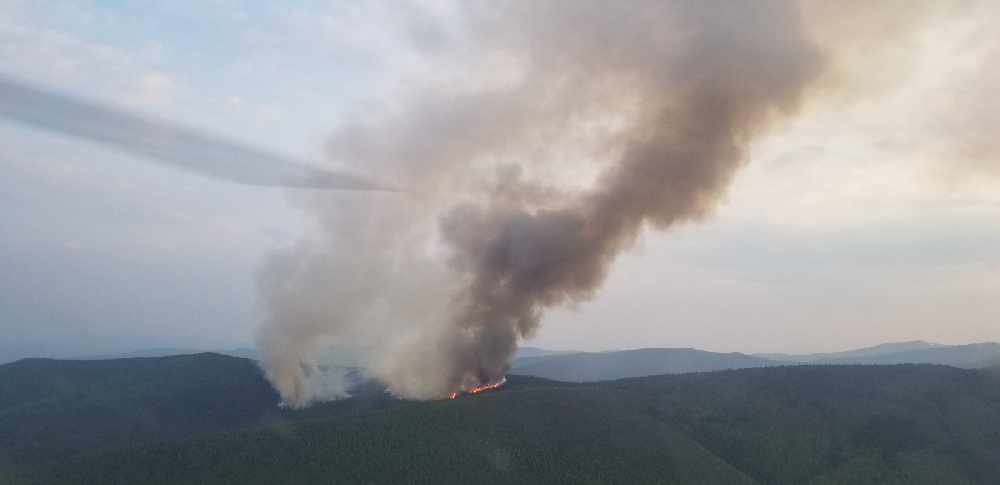 The Pigue Creek Fire. Photo: Yukon Wildland Fire Management.
There are two new fires near Dawson, while smoke continues to pour into the territory from a northern Alberta wildfire.
Crews with Yukon Wildland Fire Management are keeping an eye on two new blazes in the territory.
The biggest is a 61-hectare lightning-caused wildfire southeast of Dawson, near Pigue Creek which was sparked Wednesday night.
Wildland Fire says it is visible from the North Klondike Highway near Clear Creek, but neither the highway nor a structure 15 kilometres south of the fire is at risk.
A two-hectare blaze is burning west of Dawson near the Top of the World Highway by the U.S. Border. The cause of that fire is not known.
Wildland Fire says both fires are responding minimally to suppression efforts.
The fire danger rating is high to extreme in central Yukon, and low to moderate in the south.
Meantime, Wildland Fire Management says smoke from a wildfire near High Level, Alberta is blowing into many parts of the territory.
The smoke arrived in the Whitehorse area early Wednesday and a map tracking the smoke shows coverage extending from the Kluane region to the Dempster Highway. The thickest concentration is in east-central Yukon over the Mackenzie Mountains south of the Arctic Circle.
Wildland Fire Management says the smoke is not from any Yukon fires.
So far this year, there have been 18 fires, with three currently active in the territory.
Health and Social Services warn seniors and Yukoners with chronic breathing problems if you are troubled by the smoke, to stay indoors, keep the air clean by recirculating the air, and avoid smoking or burning materials.