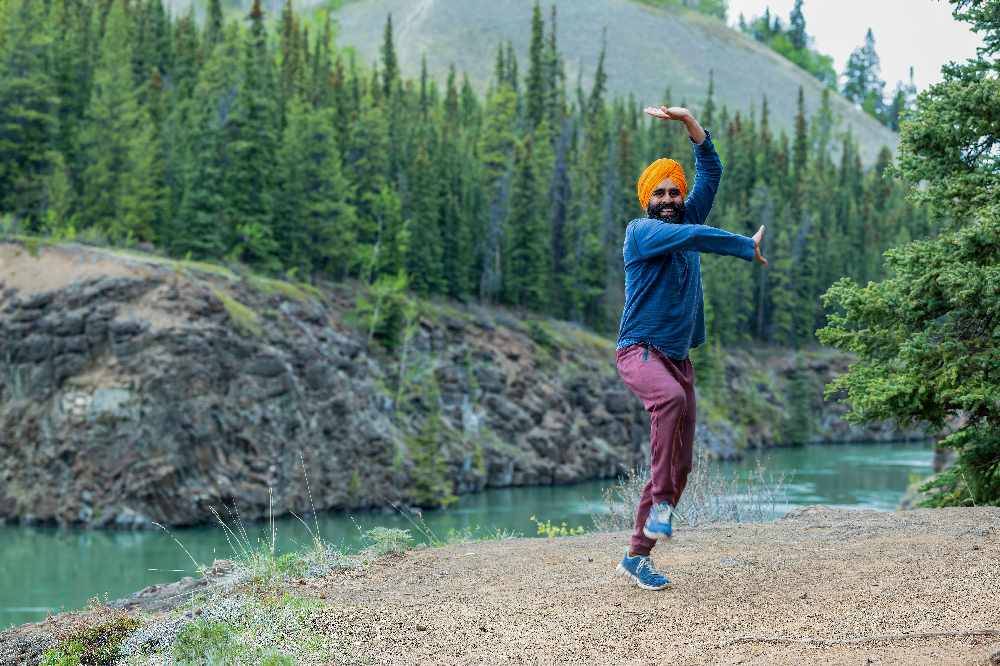 Gurdeep Pandher dances Bhangra near Miles Canyon in Whitehorse. Photo: Mark Kelly Photography.
Well-known Bhangra artist Gurdeep Pandher says we all need to change our thinking when it comes to racial attitudes.
A Yukon-based Bhangra artist says we are all people no matter our skin colour.
Gurdeep Pandher, who's uplifting dance videos have garnered millions of views, says the Black community and those who are racialized have experienced discrimination, bias, and prejudice, and we need to work toward equality.
"We are just people," Pandher tells the RUSH.
"We should treat everyone with the same respect instead of treating someone based on what that person is looking like."
With Confederate statutes falling in the southern United States, Pandher says we need to destroy the statues in our minds.
"Do not discriminate. Do not judge. See everyone as a normal person," Pandher said.
"If someone is wearing different types of clothes instead of being judgmental just try and learn about those dresses (and) costumes."
Pandher says when we do not know about other people we become fearful, and he encourages everyone to ask questions and talk to your neighbour.
He went on to say we need to include people of privilege in the discussion and have a mutual dialogue to create a common goal.
Pandher says if you have not experienced discrimination you cannot relate. He notes racism can exist undercover giving the example of being turned away from a job based on your name.
He hopes his dance videos and Bhangra classes are helpful in breaking down cultural barriers. He added we live in a wonderful territory and a lot of people are accepting. But he does say more work needs to be done.
Pandher is hopeful society can change. He says we should be creating a world where everyone is kind and generous.
His comments come as a number of protests have been held around the world in recent weeks--including Whitehorse--against racism and discrimination.
(Audio: Senior Reporter Tim Kucharuk in conversation with Gurdeep Pandher.)
Dance at the Yukon's Lake Laberge is always magnificent. Ana Rita and I danced Bhangra to traditional Punjabi musical instruments. pic.twitter.com/6HJsIRXt1c

— Gurdeep Pandher of Yukon (@GurdeepPandher) June 10, 2020