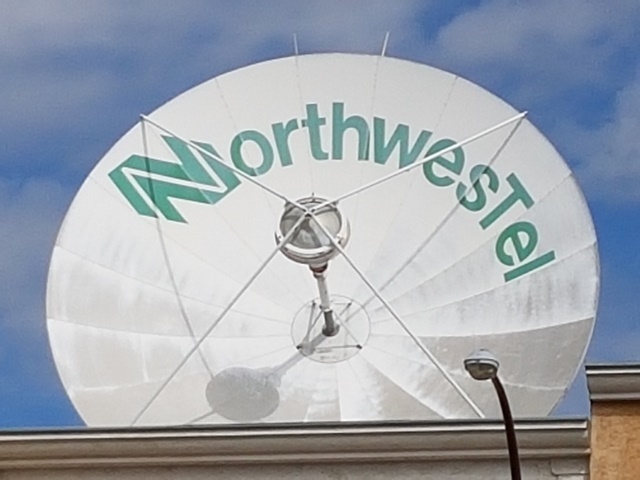 NorthwesTel is announcing temporary Internet usage relief for all customers. Photo: Tim Kucharuk/CKRW file.
NorthwesTel announces changes to internet usage for March and April; changes to City of Whitehorse operations; Yukon Energy, Eagle Gold adjust to pandemic; Watson Lake slows.
NorthwesTel says every Internet customer in northern Canada will receive temporary relief on their usage for March and April.
The announcement comes after a decision on an application to the Canadian Radio-television and Telecommunications Commission.
Monday's decision means all overage fees will be waived for cable Internet customers in Whitehorse and Carcross.
Users in Old Crow who have satellite DSL will see their monthly usage increased by 50 percent.
All remaining terrestrial DSL customers will have 100 gigabytes of additional monthly usage.
As more people are now working from home, NorthwesTel says the move is to facilitate increased telework across the north.
City Shifts Services
The City of Whitehorse is adapting to changes around new rules from Yukon's Chief Medical Officer of Health.
Monday's council meeting limited the number of people in chambers to 10, with council participating by phone except for Deputy Mayor Dan Boyd who chaired the meeting. Staff, as well as media, were spaced out around the room.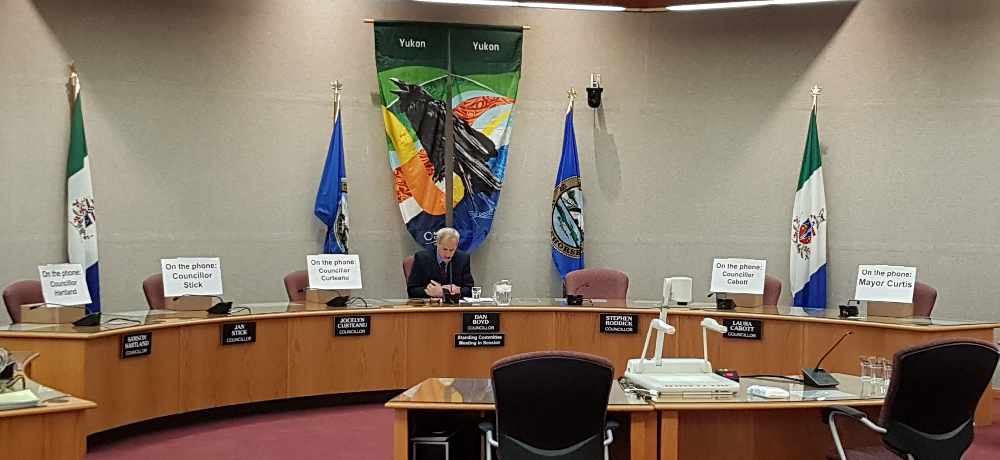 (Deputy Mayor Dan Boyd Monday night. Photo: Tim Kucharuk/CKRW)
Mayor Dan Curtis, who is self-isolating after a recent trip to B.C., opened the meeting with some words of encouragement.
"We know there is a lot of anxiety in our community surrounding COVID-19," Curtis said. "I want to assure you that our top priority is the health and safety of our residents and our visitors. We have and will continue to follow the recommendations by the chief medical officer of health with regards to city services and facilities."
Starting Tuesday, the city is suspending drop-in front-counter services at all its facilities, with services still operational by phone or online.
City Manager Linda Rapp also says departments are coming up with contingency plans if they have to work with reduced staff.
Eagle Gold Operations
Victoria Gold says while operations continue at the Eagle Gold mine near Mayo, special COVID-19 protocols are being put in place.
President and CEO John McConnell says they have switched from two to four-week cycles for employees, and outside workers are being chartered directly to the site.
"We screen everybody before they come to (the) site," McConnell said. "We call everyone up, we have a questionnaire. We are reliant on them to be honest with us, but by in large people are taking this seriously.
McConnell says they don't have any outside contractors right now, except for the embedded NND Summit Services who are providing catering.
"If we wanted to bring in another contractor, say there was a specific task, they would have to follow the same specific protocols as our employees and the same rotation schedule."
McConnell says on-site rules forbid groups, and dining times are being spread out. He also says an onsite medic is available to the almost 200 person camp.
Yukon Energy
Yukon Energy says it's stepping up its COVID-19 measures after two cases were confirmed in the territory.
The corporation says they are restricting visitors to all of their offices and facilities, limiting employee presence at sites, and suspending all non-essential travel outside of the territory and to rural Yukon.
Yukon Energy says in a statement measures will continue around travel restrictions and self-isolation requirements, enhanced hygiene and social-distancing protocols, and the postponement of community meetings.
A statement says all employees who can work from home will do so, all contractors, consultants, and visitors will not be onsite, except for those providing critical services such as fuel delivery and supply shipments, and emergency response crews will remain available 24/7.
Yukon Energy says it's well-equipped to provide safe and reliable power to Yukoners.
Watson Lake 'Slow': Mayor
Watson Lake's mayor says the community is still upbeat despite social distancing measures in place due to coronavirus.
Cheryl O'Brien says residents are playing it safe and being cautious, while also following the advice from Yukon's Chief Medical Officer of Health.
"There are not as many people out on the street, or around town; movement is slow around town other than the Alaska Highway," O'Brien told the RUSH. "The community as a whole (we) are encouraging people to continue to do that."
O'Brien says a number of provisions have been put in place to assist social distancing.
"Gas stations and the grocery stores have been taking precautionary measures," she said. "Already putting up screen-guards and encouraging shoppers to not mingle. To get their shopping done and get in and out."
O'Brien says the municipality is working with the Yukon Government to do everything it can to ensure the safety of residents.
(With reporting by John Kennedy.)