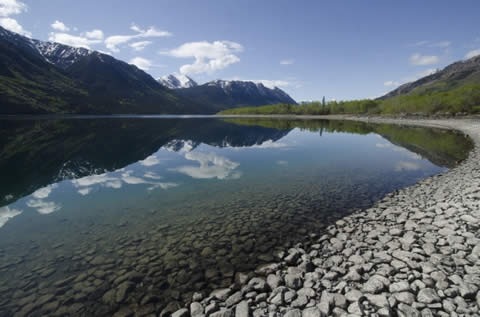 Yukoners are advised to take it easy if you plan on heading out this long weekend. Photo: CKRW file.
While the pandemic has not stopped some from making weekend plans close to home both the RCMP and Wildland Fire Management are out with some safety advice.
While territorial campgrounds will not be open this long weekend causing more people to seek out more backcountry spots on crown land, Yukon Wildland Fire Management is offering up some campfire guidelines.
Fire Information Officer Mike Fancie says don't build a fire when it's windy, keep the flames three metres away from vegetation, and if you can, put a ring of rocks around the campfire.
"We're asking people to keep those fires as close as possible to water sources like lakes or rivers so that you can put it out effectively when you're done," Fancie said.
"(Also) keep a bucket with at least eight litres of water nearby so you that can properly put the fire out by soaking it with water, stirring and repeating so the ashes are cold to the touch."
He says WFM hopes people will be responsible this weekend and only keep their fires as large as they need to and never leave the fire unattended.
Fancie says a cold front from the Northwest Territories will be moving across Yukon this weekend, and while there are cooler temperatures and some rain in the forecast, the fire danger is still there.
Heading into the weekend, the fire danger rating was moderate to low throughout the territory.
RCMP Safety Advice
Yukon RCMP are calling on the public to obey the rules over the long weekend.
Sergeant Kent Langley says while police expect to see people staying close to home, there will be those enjoying the outdoors.
Langley says the territorial and federal government have put out a lot of information on how to properly follow pandemic rules so you can enjoy the Victoria Day weekend.
"Maintain the physical distancing and keep it to very small groups," Langley said.
"In terms of driving, the same old thing applies: don't text when you're driving, don't drink and drive, and wear your seatbelt."
Langely says you can expect officers at checkstops looking for drunk drivers, and lots of police on the road enforcing other infractions as all detachments in the territory are fully staffed due to the pandemic.
(With reporting by John Kennedy.)