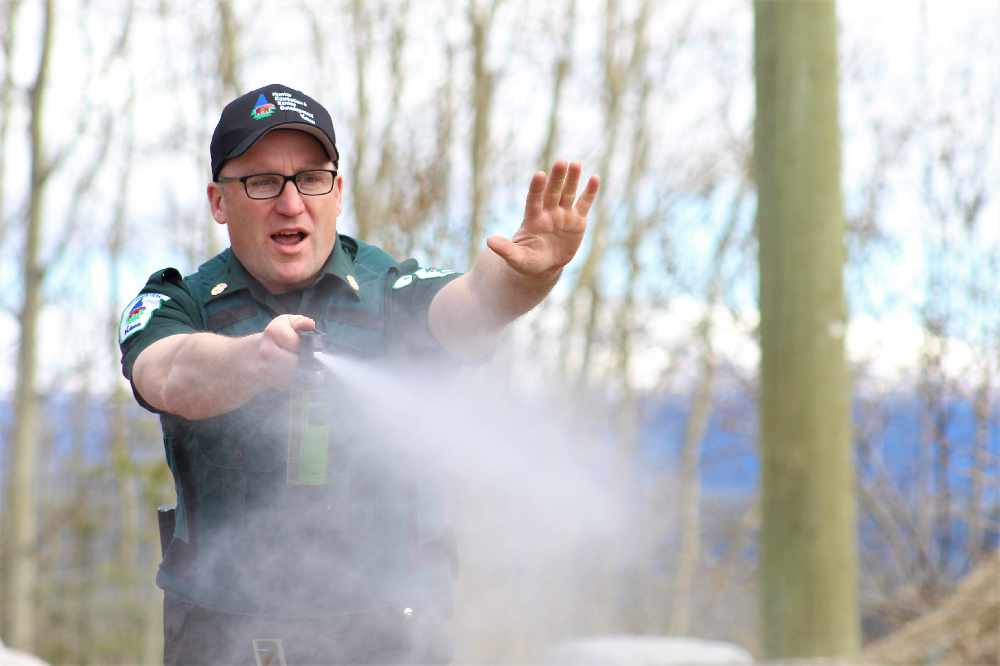 Environment Yukon's Jim Welsh shows reporters the proper technique to use when deploying bear spray. Photo: John Kennedy/CKRW.
Conservation Officer Services says we can all play a role in keeping both humans and bears safe.
Yukon Conservation Officer Services say bears are out for the season, and it is every Yukoner's job to prevent encounters.
Chief Conservation Officer Gordon Hitchcock says a fed bear becomes a dead bear, and nobody wants that.
"Feeding a bear is not just handing bears donuts out of a car window," Hitchcock told reporters Tuesday afternoon. "(It's) also allowing them to get a quick meal out of your garbage can. Bears that have been rewarded (by) accessing human-sourced food like garbage, compost, gardens, home berry bushes, and backyard chicken coops becomes a threat to public safety."
Hitchcock says a human-food conditioned bear loses its fear of humans, and at that point must be translocated.
"We are building more houses into what was once bear habitat," Hitchcock said. "More houses means more garbage cans, more compost, more bird feeders, more barbeques, and more fruit trees. Bears are animals that follow their noses."
Environment Yukon's Hunter Education and Outreach Officer Jim Welsh provided reporters a demonstration on the proper way to deploy bear spray emphasizing the need to have it within reach at all times when out on the trails or in the bush.
He showed how you should spray with one hand, raise the other, and yell as you discharge the contents.