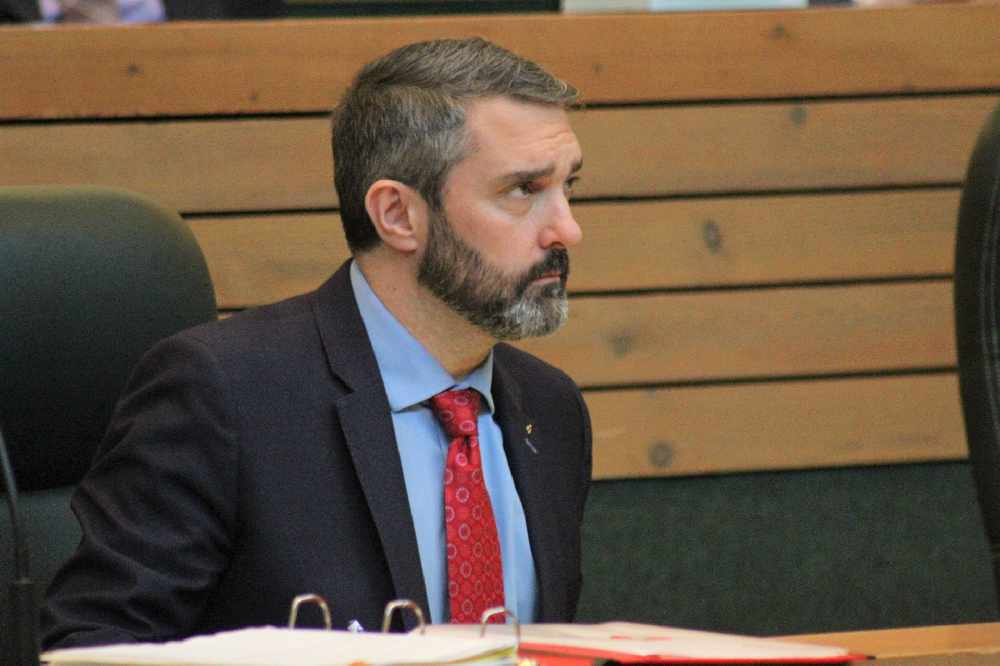 Premier and finance minister Sandy Silver delivered a financial and economic update in the Legislative Assembly Tuesday afternoon. Photo: John Kennedy/CKRW.
Premier and finance minister Sandy Silver reports a larger than projected deficit due to a busy forest fire season.
This year's forest fire season has burned a hole through Yukon's finances.
An interim fiscal and economic update tabled by Premier and Finance Minister Sandy Silver in the Legislative Assembly Tuesday showed an increased deficit of $14 million because of the intense fire season.
"We do have a deficit now of $20 million dollars that went up from the $5.9 million from the main estimates," Silver told reporters outside the house. "A large amount of that was for (the) forest fire (effort)."
Silver says Yukon is on track to gain a surplus in the 2020-2021 fiscal year, with preparations being made in the event of a recession.
"We're looking good right, but of course we always have to take a look at the models in a way that forecasts whether or not Canada, or the nation or internationally things are going to move and change."
He says most of the deficit can be recovered through federal funding.
The economic update says Yukon's economy continues to perform well, with better than expected gains in labour earnings, and retail sales.
Opposition Reaction
In response to the Yukon Government's higher than expected deficit, the Opposition Yukon Party says it is important governments live within their means, and not run deficits.
Finance Critic Brad Cathers says while the government chalks up the extra $14 million in spending to the rising costs of forest fires, there was other spending in the Community Services department which brought the department's total to $64.3 million dollars.
"While we believe that some of it was necessary, we believe much of it was not necessary," Cathers said. "We are going to be asking (the) government about that."
NDP leader Kate White says the larger deficit due to forest fires is now showing the true cost of climate change.
"What we're seeing is a fire season that was bigger than expected, and it lasted longer than expected," White said. "What we need to consider is what the future looks like in the territory when we talk about fire seasons."
White says this is why the NDP has introduced a motion calling for a climate change emergency to be declared, which would have the government consider climate change in financial planning.
(With reporting by John Kennedy.)