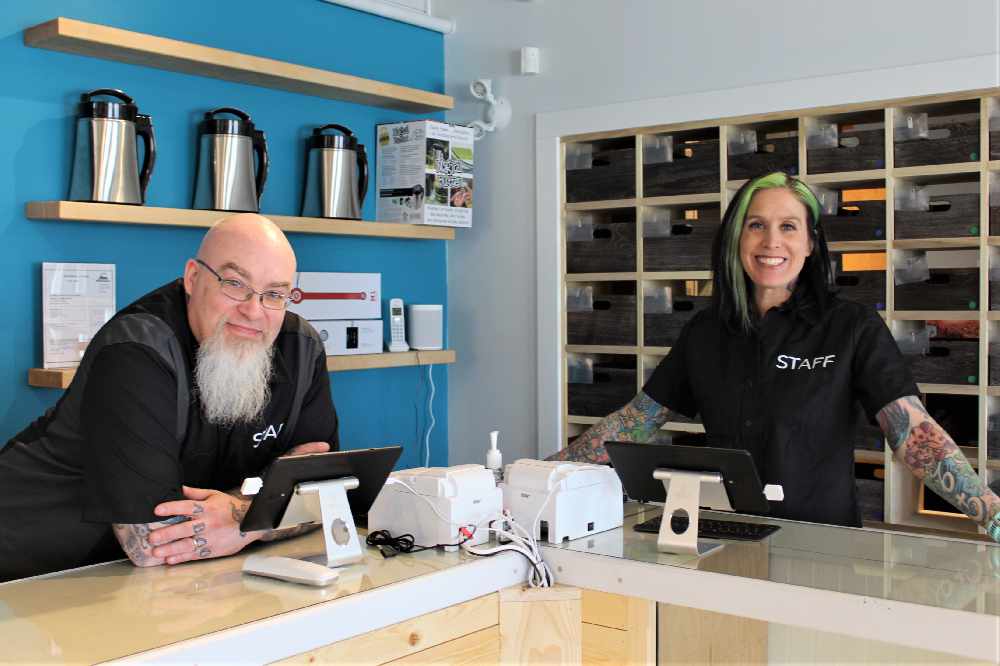 Jeremy Jones and Jordi Mikeli-Jones open Triple J's Canna Space Thursday morning. Photo: Tim Kucharuk/CKRW.
Triple J's Canna Space in Whitehorse says they now have a license from the Liquor Corporation, and will open Thursday.
The first Cannabis Standard Retail Licence is being issued to Triple J's Canna Space in Whitehorse.
After a one day delay, the license was issued Wednesday morning.
The owners, Jordi Mikeli-Jones and Jeremy Jones have also been granted a City of Whitehorse Business Licence.
The store will now open for business at 10 a.m. Thursday.
There's been no word so far from the Liquor Corporation as to why the delay.
The opening of the private cannabis market has been a goal of the territorial government since cannabis was legalized, with plans to close its one retail store in Whitehorse by the fall.
(This is an updated story. The previous version is below.)
___________________
It looks like Yukon's first private cannabis store will not be opening Wednesday after all.
Triple J's Canna Space on Wood Street was gearing up for an opening at 10 a.m., but owner Jordi Mikeli-Jones writes on social media, due to circumstances beyond their control, they won't be able to open.
The store had hoped to get their cannabis retail license by Tuesday but was advised in the afternoon that wasn't going to happen.
Mikeli-Jones says they are very frustrated with the Yukon government process but remain cautiously optimistic the license will be issued Wednesday and the store will be open Thursday.
The RUSH did contact the Liquor Corporation for comment, and the department says it would address the issue Wednesday.
(The message from Triple J's Canna Space as posted on social media.)