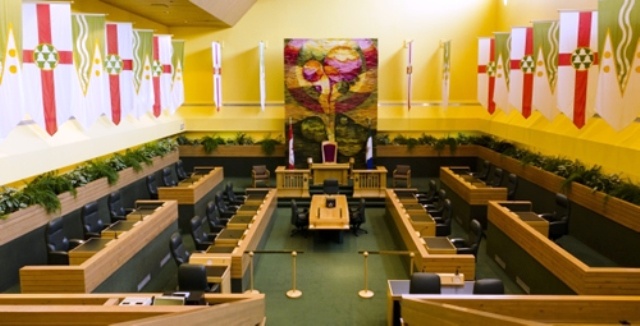 The first sitting of the 35th Yukon Legislative Assembly ended on Monday. Photo: CKRW file.
The 2021-22 budget, which includes capital expenditures of $434.3 million, received assent.
The first sitting of the 35th Yukon Legislative Assembly concluded on Monday afternoon.
The sitting ended with the 2021-22 budget being given assent. The budget has 17 percent more capital expenditures than the previous year's budget.
Premier Sandy Silver spoke to reporters after the session concluded, discussing what the budget will mean for Yukoners moving forward.
"I'm very excited with the initiatives that are in the budget. The $434 million dollars of capital expenditures is exactly what we need right now to keep going as the world turns from relief to recovery, and Yukon finds itself ahead of that curve."
NDP leader Kate White spoke about some of the items included in the budget that are outlined in the Confidence and Supply Agreement between the NDP and Liberals.
"This budget is the first step towards a public dental plan, which will be the first one in Canada. That's a really big deal. This is something I would probably expect to be part of federal election campaigns. By us saying that this is an important step, other jurisdictions will be paying close attention and following suit."
The Yukon Party says there are more questions than answers left after the conclusion of the spring sitting.
Official opposition leader Currie Dixon says ministers were unprepared to answer the opposition's questions.
"The unfortunate reality of this sitting has been that ministers simply weren't able to answer questions throughout this entire sitting. That was a common theme. We heard it in questions from both the NDP and the Yukon Party, where the government was unable to answer basic questions about what's going on."
Dixon says the 11-day sitting - quote - "uncovered holes" in the confidence and supply agreement, and that the sitting did not allow enough time for elected officials to review the budget.
A motion to establish a committee on electoral reform was passed during this sitting and will include one representative from each party in the assembly. A report will be submitted by the committee by March 31st, 2022.