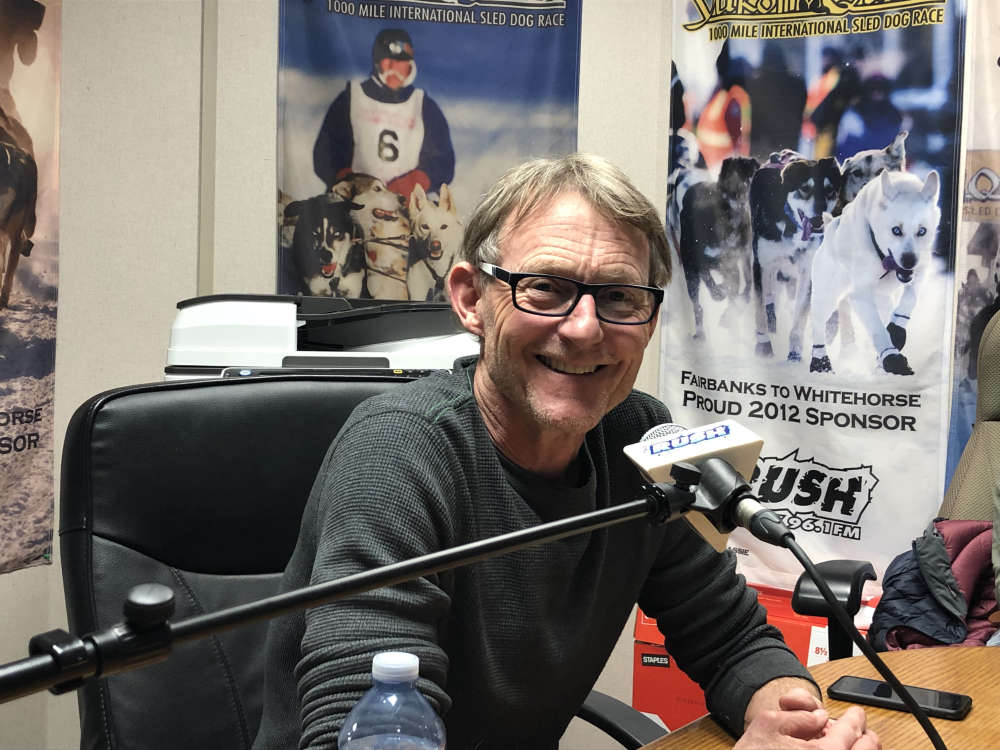 Yukon's Federal Liberal Candidate, Dr. Brendan Hanley. Photo: Luke McGrath/CKRW
Hanley looks to maintain the Yukon seat for the Liberals, held by outgoing MP Larry Bagnell.
Taking leave from his position as Yukon's Chief Medical Officer of Health (CMOH), Dr. Brendan Hanley is looking to bring his experience as a northern physician to the national table as Yukon's next Member of Parliament.
The Liberal candidate sat down with RUSH News' Luke McGrath to discuss the campaign and some of the main issues that will be debated throughout the election.
How are you adjusting to life on the campaign trail from the CMOH position?
"I'm feeling good. Definitely getting used to what a campaign is in terms of getting out and around Yukon. I've been to several communities already. I've been door-to-door in several neighbourhoods. It's been busy, but exciting as well. It's been so insightful for me to have those conversations on the doorstep. It's been really helpful for me to understand the needs and concerns of Yukoners, but also really fun just to meet Yukoners face-to-face."
There's a very noticeable housing crisis in the country, and particularly in the Yukon. How can you, as MP, work to ensure that the territory's housing concerns are heard by the Federal Government for those who need affordable rental housing, and first-time homebuyers as well?
"That's certainly one of the needs I'm hearing from Yukoners. I think everyone agrees there's a lot more to be done on the housing front. Certainly, in my experience to date in my previous position working across governments to make sure Yukon's voice is heard, I think I can help to be an advocate for ensuring that there's a Northern lense on all decisions. Housing is a big area where we need continued investment."
Climate change is an issue that is extremely prevalent in the north. What steps are you expecting the Liberal government to take to help the territory come out on the right side of the climate crisis?
"We know that the effects of global warming in the north are worse, probably double the impact due to greater relative warming in the Arctic regions. The Liberal Party released its plan to protect homes and communities from floods and wildfires, training 1000 community-based firefighters, helping them to buy new equipment, creating a climate adaption home-rating program for better transparency, and expanding eligibility for home retrofits. Then there's the bolstering of previous measures. Increased support for the Yukon Government's disaster and recovery efforts, increasing mapping of areas in the north at risk of wildfires and flooding, and there will be more to come as the Liberal Party develops its platform with regards to climate change."
You have a great deal of experience as a public health physician in the north. What areas can a re-elected Liberal government address to improve access to basic healthcare services for even the most remote communities?
"I do hope to bring a physician leadership voice to the national table to help advocate for support for increased access to primary healthcare. We hear over and over how difficult it is for Yukoners to access a family physician. To ensure the most remote communities have access to healthcare services, the Liberal Party, if elected, will increase student loan forgiveness for health professionals who choose to work in rural communities, and I think that could really play out well in Yukon. The Liberal Party will also introduce a tax incentive to make it easier to set up a health practice in more remote areas."
What can a re-elected Liberal government do to ensure the territory's infrastructure can keep up with a demand of a fast-growing population?
"Infrastructure funding is a top priority for this Federal Government, especially projects that align with climate goals. There have been a number of important infrastructure projects funded in Yukon, like the North Klondike Highway reconstruction, and the upcoming affordable housing units at Boreal Commons in Whistle Bend. I think we can expect those kinds of infrastructure investments. It's such a key part of pandemic recovery and addressing the projections of a growing population. There are no plans to slow down."
One of the main topics of discussion for this election is reconciliation with Indigenous Canadians. What can you do to ensure progress towards reconciliation continues in the territory?
"Reconciliation is close to my heart. To improve our well-being as a whole society in Yukon, we need to continue to see progress towards the goals of reconciliation. The Federal Government has been working through the recommendations of the Truth and Reconciliation Commission. We need to hold ourselves accountable to achieve those 94 recommendations. Each of them resonates with what I've been hearing in conversations with First Nations leaders here in Yukon. The issue has been made all the more poignant by the recent discoveries of the remains of children at the sites of residential schools. This has re-ignited the motivation of many Canadians to see that we advance reconciliation. The Liberal Party is renewing a commitment to pursuing those goals."