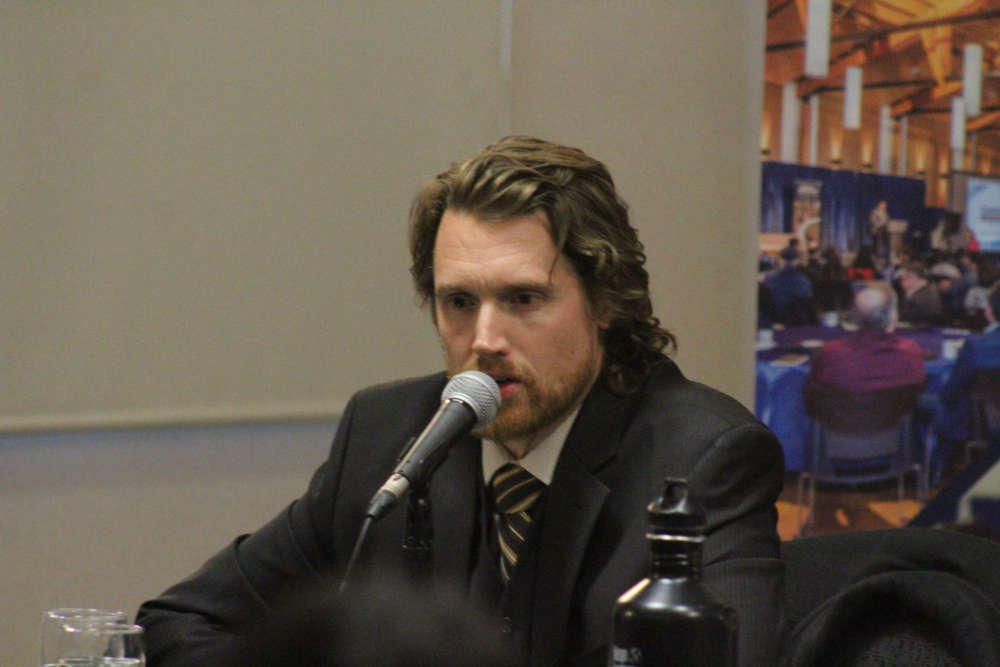 Jonas J Smith continues to vye for the MP position as an Independent. Photo by John Kennedy / CKRW File
Smith says this election will very likely end up in a minority government situation again, so he wants to represent Yukoners regardless of who forms power.
Continuing with RUSH News' Campaign Profiles, Reporter John Kennedy sat down with Yukon's only Independent Candidate. Jonas J Smith says he is ready to represent all Yukoners on the federal stage regardless of who forms government.
Smith sat down with Kennedy and discussed the campaign and some of the main issues that will be debated throughout the election.
You're running as an independent. I know that there are other banners to run under since you're no longer affiliated with the conservatives, so why independent?
"I think there's a real opportunity here, to represent a broad spectrum of Yukoners in the House of Commons. You know, I'm seeing a lot of support from traditional conservative voters, who see me as the best chance to keep the seat from the liberals. I'm getting lots of support from traditional liberal voters who would never bring themselves to vote conservative, but aren't pleased with Justin Trudeau, as well as support from traditional NDP voters and people from swing voters from other parties as well."
So is this a strategy to keep the liberals from forming the government, or is there more behind it?
"I think there's a lot of polarization in politics these days, we just need to look at the results of the last territorial election as well as the 2019 federal election, I think it's very likely that we're going to end up in a minority government situation again. The Yukon only has one seat out of 338 in the House of Commons, whereas Quebec has 75. We really don't have a lot of influence over which party forms government, but as an independent, I can represent Yukoners, effectively, regardless of which party forms government, so it puts me in the best position to represent all Yukoners."
There's a very noticeable housing crisis in the country, and particularly in the Yukon. How can you, as MP, work to ensure that the territory's housing concerns are heard by the Federal Government for those who need affordable rental housing, and first-time homebuyers as well?
"I think regardless of which party forms government, there's going to be a housing investment. And so my job as an independent Member of Parliament would be to make sure that that housing envelope fits Yukon's reality. We, of course, are different than other parts of the country. I think that our First Nation Government partners are going to be essential in addressing our housing shortage. What it comes down to is the demand exceeds the supply. So we need to find a way with our partners in the First Nations Government, the private sector and NGOs, to make sure that we can increase the supply without upsetting the applecart of the people that are already invested in the market."
Climate change is an issue that is extremely prevalent in the north. What steps are you going to take as an Independent Member of Parliament to help the territory come out on the right side of the climate crisis?
"I've always said that anyone who doesn't believe in the severity of climate change just needs to go up to the Beringia center and look at the woolly mammoth skeleton and understand how it worked out for them. But at the end of the day, Yukoners don't need someone from Ottawa or Paris lecturing us on the realities, we just need to look out our window. I mean, especially, you know, our neighbours on Marsh Lake or Lake Laberge here. So, the reality of where we live is, we have to heat our homes nine or 10 months of the year, almost every single necessity we consume comes upon a truck or an airplane. So there's got to be a better way to do our part to reduce emissions, then make the necessities of life more expensive. And for me, the single greatest thing Yukoners could do is invest in new clean hydropower. "
As our MP, what would you do to ensure public health is at the forefront of your agenda and that healthcare needs and basic access to healthcare services are available for even the most remote communities?
"The COVID pandemic has really shown how fragile our healthcare system is and at the end of the day, we're going to realize that the people who have suffered because of undiagnosed or untreated illnesses are going to be the real tragedies. But all the money in the world isn't going to fix that. We need the people to do that as well. So one of the things that I'm quite interested in, is finding ways to work with Yukon University. First Nation governments and federal partners to train Yukoners to fill these professional health care positions that we're going to need to care for Yukoners in new and innovative ways, particularly when it comes to mental health."
How will you work as MP to ensure that the Yukon emerges from the pandemic relatively unscathed with support from Ottawa?
"I think that we need to find the right balance between protecting our most vulnerable and allowing our healthy taxpaying population to go to work, as well as allow our children to have a childhood. I mean, that's really been one of the big tragedies for me. So absolutely advocate for additional vaccine doses if boosters are required, but also ensure that the measures are being targeted to the people that need them the most. So if you work in a low-risk industry, we probably don't need to have to spend a lot of taxpayers' money on rapid testing. Whereas if you work in a high-risk industry with high-risk individuals, and that's someplace where you would use a testing capacity, for example."
One of the main topics of discussion for this election is reconciliation with Indigenous Canadians. What can you do to ensure progress towards reconciliation continues in the territory?
"Reconciliation means a lot of things to a lot of different people. I think what's really going to move us together towards the future is economic reconciliation, ensuring that first nations have a 100% role with the rest of the population. We're not going to see things like additional clean hydropower investment or be able to address our housing, situation or train Yukoners to fill healthcare needs without full First Nation support. But, you know, on the more tragic side, I want to say that I'm fully supportive of doing whatever we can to give families in the victims of residential school closure when it comes to gravesites. We have to do everything we can to at least let people know whatever information is out there."
Why should people vote for you?
"I've put three years of my life into this effort. And despite my differences with a few people in the current conservative party at present, I like to think that I've demonstrated to Yukoners that I put principle before politics. I'm in this for my children, for Yukoners children and the next generation."