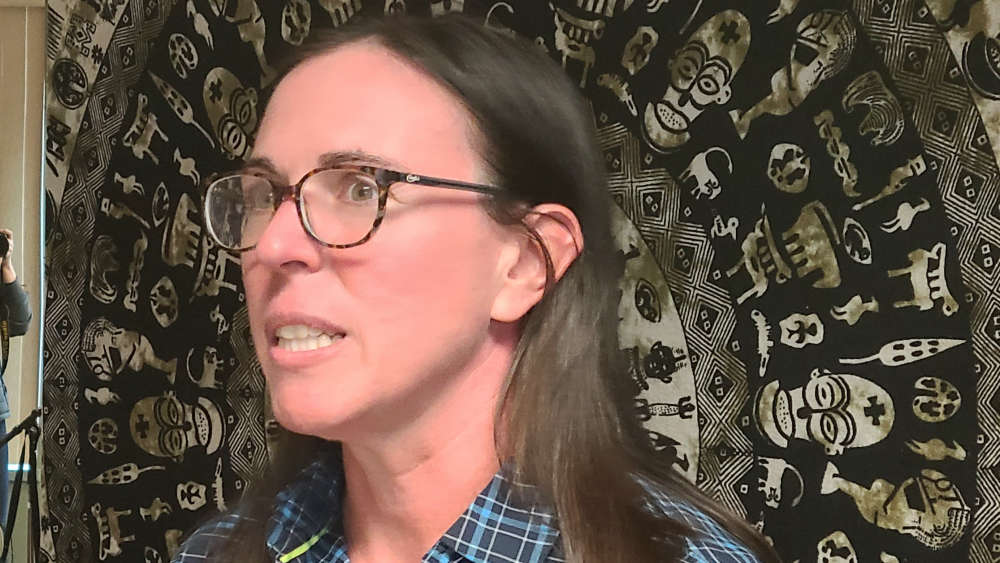 Yukon's Federal NDP Candidate Lisa Vollans-Leduc. Photo: John Kennedy/CKRW
Vollans-Leduc says she wants to bring a new perspective to the House of Commons, and shape the narrative for Yukon.
NDP Candidate Lisa-Vollans Leduc sat down with RUSH News' Luke McGrath to discuss life on the campaign in her bid to be Yukon's next Member of Parliament.
How are you adjusting to being on the campaign trail?
"Time has gone by really fast. I'm getting a bit more comfortable. It's the first time I've done a big campaign like this. It's going really well. Our team is working really smoothly together, putting in a lot of hours. We all have a goal, and we're all working hard to achieve it."
Climate change is an issue that is extremely prevalent in the north. What steps can an NDP government take to help the territory come out on the right side of the climate crisis?
"I'm blown away by the amount of work, and the direction our NDP is moving in. We've got a national crisis strategy to help communities reduce and respond to climate risks. We want to make it easier to buy and use zero-emissions vehicles, by building more of them in Canada. There are incentives for up to 15 thousand dollars per family for made-in Canada vehicles. These are just some of the things the NDP wants to bring forward."
Do you feel that the Yukon has the potential to be a leader in action on climate change?
"I do. Part of that is listening to Indigenous people that are living here that have noted the changes in the environment. I've been here for 18 years and I've already noticed an incredible change in the environment I live in. I can't imagine having hundreds of years of stories to accompany that. I think we really need to listen to the people who have experienced it first hand."
Housing is a notable issue for people who either are trying to buy a home or for people that are struggling to pay their rent. How can an NDP government help make housing more affordable in Yukon?
"Housing is a multi-faceted issue, and one that is going to take a multi-level approach, including non-government organizations, First Nations governments, there's not one level that can solve this problem. Housing is a priority in the North. The Federal NDP is bringing forward doable solutions. There's a commitment to bringing in 500 thousand houses over 10 years. As MP, I would start advocating for some of those units to come up to Yukon. One of the other things that the NDP wants to do is co-develop a national indigenous housing strategy within the first 100 days of our mandate. It will be sustainable and dedicated funding, whether you live in Whitehorse, one of the communities, or a more remote location. Another piece of our platform is to reintroduce 30-year mortgages. When 30-year mortgages went away, a lot of people didn't qualify for mortgages because they wouldn't be able to afford the payments, so I think that will really help new families."
If you are elected, who are Yukoners getting as their next MP?
"It's been brought up that I don't have a lot of experience in the political realm, but I don't think that's a bad thing at all. I'm not interested in being a seasoned politician. I want things to change. Change doesn't always happen when it's the same personalities dominating the same space. I'm a grassroots activist. I want to bring a new perspective to the house of commons and I'll advocate for the territory in a new way. I want to shape the narrative for the Yukon based on what I'm hearing from people that I talk to."