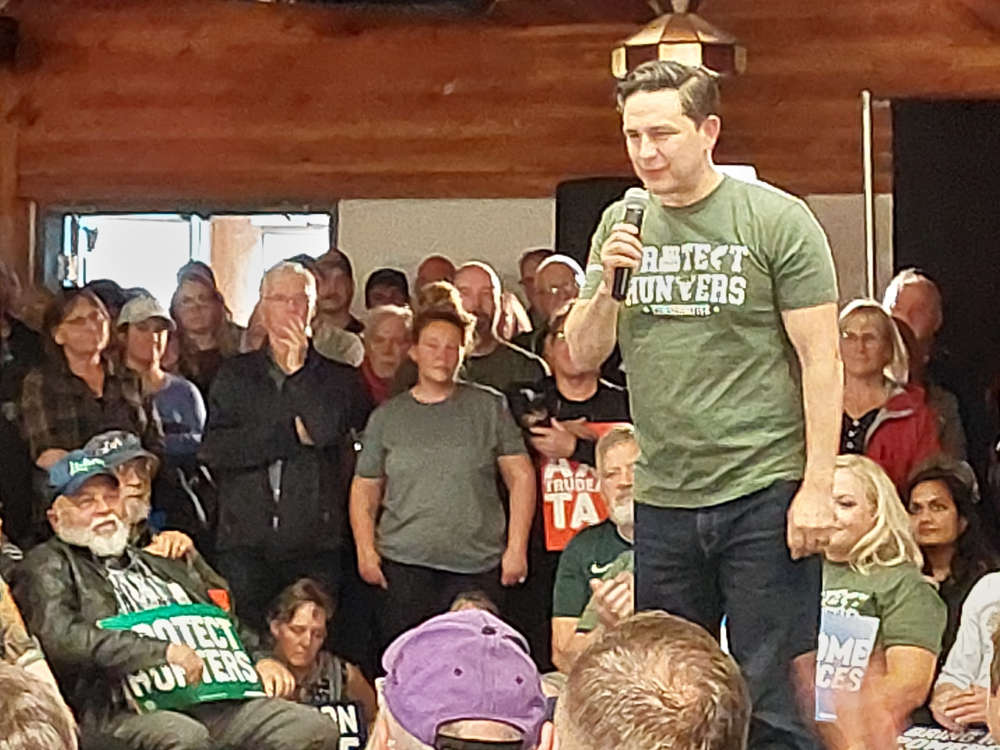 Conservative Leader Pierre Poilievre speaks at the Whitehorse 'Axe the Tax' rally
Conservative Leader Pierre Poilievre's Axe the Tax rally in Whitehorse had a large showing, including small number of counter protestors
WHITEHORSE - Conservative Leader Pierre Poilievre's 'Axe the Tax' rally drew in a sizeable crowd Friday evening, filling the Grey Mountain Room at the Mount McIntyre Recreation Centre from wall to wall. A handful of counter protestors had gathered outside the event, holding signs drawing attention to the climate crisis, but they quietly dispersed as the rally got underway.
I'm concerned about the polarization of politics. I feel that the climate crisis is so urgent that we need collaboration and co-operation in politics. Minority governments work, politicians can work together. If our leaders would show some leadership and muster economic, political, social, and moral will behind the issue of climate change, we might be able to save this planet for the future... I am here because I have grandchildren and I do not want our politics to become like they are south of the border.
- Spence Hill, Counter protester
The event began with a speech from Conservative MP Lianne Rood, who recounted the fever pitch of Pierre Poilievre's supporters nationwide, before introducing fellow Conservative MP Bob Zimmer, who was in attendance alongside Former Yukon Conservative MP Ryan Leef, and current NWT MLA Jackie Jacobson.
Poilievre himself spoke at length about the hot topic issues of runaway inflation, carbon taxes, rising national debt, hunting and firearm regulations, as well as the housing supply, and the opioid crisis. He drew special attention to the nationwide shortage of healthcare professionals, proposing a 'Blue Seal' certification system, akin to the existing Red Seal trades certification, as a means to fast-track capable and previously certified workers from unrecognized jurisdictions into positions within their fields in Canada.
We have 20,00 immigrant doctors, and 32,000 immigrant nurses banned from working in our healthcare system because there is no way for them to prove weather or not they're qualified, so they wind their way through a maze of confusing bureaucracy that leads them nowhere and they're stuck driving taxis or serving coffee for minimum wage, unable to serve the patients for which they're qualified.
- Pierre Poilievre, Leader of the Conservative Party of Canada and the Official Opposition
A plan to tackle the opioid crisis had also been discussed, with Poilievre promising to pursue a settlement with opioid producing pharmaceutical companies, similar to a recent $26 billion lawsuit settlement in the United States. He stated that the collected funds would then be invested into detox and rehabilitation programs.
We're going to sue 'Big Pharma' and use the money we collect from them to pay for that treatment to bring our loved ones home drug free. - Pierre Poilievre, Leader of the Conservative Party of Canada and the Official Opposition
During the event there was one instance of a counter protester shouting at Pierre Poilievre to voice his true opinions, which was met with resounding jeers from the crowd. The interaction came as Poilievre was discussing local Liberal MP Brendan Hanley voting record on Bill C-21, the recent controversial amendments to the Firearms Act. Poilievre quickly seized the opportunity to defuse the situation with humor referencing his push to defund the Canadian Broadcasting Corporation, a recurring theme throughout the evening.