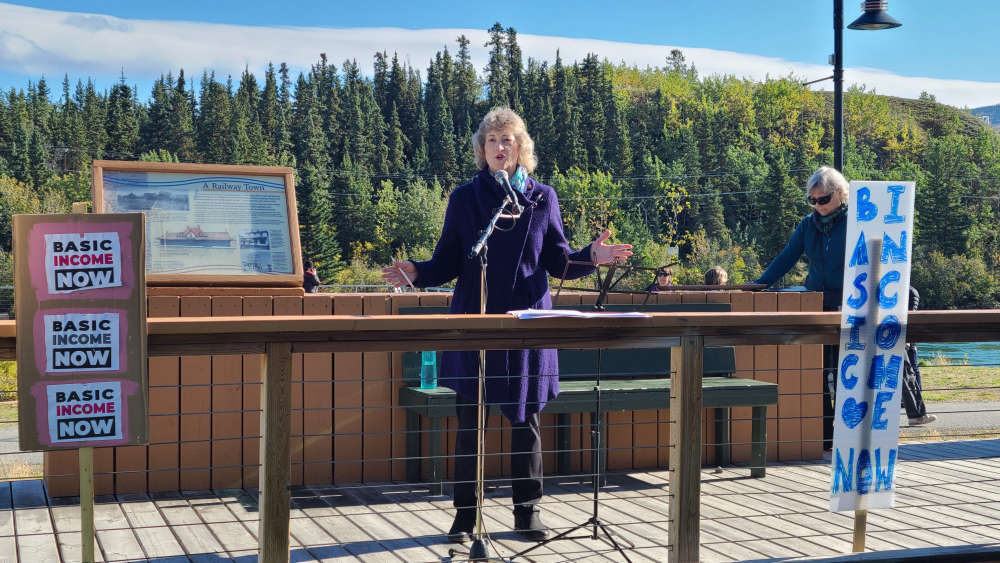 Pat Duncan ( pictured above ) says a basic income garuntee would need to be unconditional to function properly and effectively. Photo by John Kennedy / CKRW
Yukoners gathered near the Healing Totem in Whitehorse to rally for a Guaranteed Basic Income

A rally, organized by the Yukon Anti-Poverty Coalition was held on Wednesday in Whitehorse to raise awareness about the issue of basic income.
A basic income program is defined as a regular, reliable distribution of money from the government to people, to help ensure total income sufficient to meet common, basic needs.
Yukon's Independent Senator Pat Duncan spoke at the rally on Wednesday, explaining a negative income tax model that is the suggested framework for basic income.
"Using a negative income tax model is the suggestion for the basic income guarantee. By using the tax system, with the same rules that apply to everyone and can be accessed by everyone, the program becomes universal. Everyone in Canada is eligible."
Duncan says the program would eliminate the need for those needing assistance to visit different caseworkers for decisions and would allow social workers to focus on helping people.