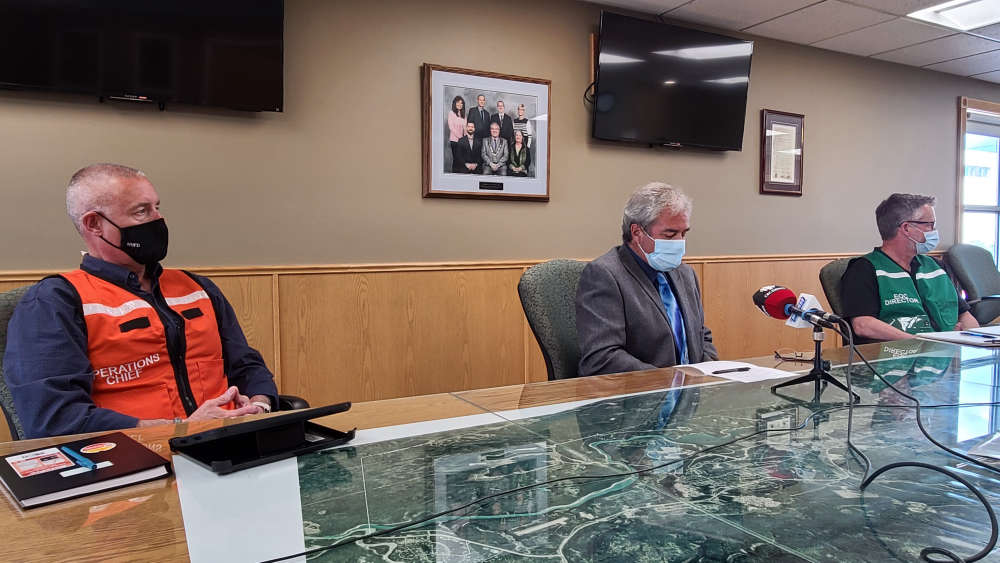 Operations section chief Jason Everitt (Left), Mayor Dan Curtis (middle) and Emergency Operations Centre Incident Commander Jeff O'Farrell (Right). Photo by John Kennedy / CKRW
The city's Mayor and emergency officials sat down to discuss the steps being taken to prepare the downtown core for flood conditions.
City of Whitehorse Officials have briefed Yukon's Media outlets about how the city is preparing for potential flooding in the community.
During a meeting at city hall in downtown Whitehorse on Friday, Mayor Dan Curtis, Emergency Operations Centre Incident Commander Jeff O'Farrell and Operations section chief Jason Everitt all discussed what steps the city is taking to ensure Whitehorse is prepared to handle flooding.
Chief Everitt says the city is working closely with the territorial government to share information and coordinate efforts to prepare.
"The Emergency Operations Centre is tasked with establishing a direct connection with higher levels of government and our partners, so we can ensure that information sharing is occurring daily. Based upon that, we're able to provide them with information about what's happening in the city of Whitehorse, while they are able to provide us with information on a broader territorial perspective."
Everitt says the million-dollar question is whether or not the water levels will become a problem. He says the Yukon River's water levels are controlled by Yukon Energy, so the city is working closely with the utility to ensure the situation is fully under control.
He says it's entirely likely that water levels along the Yukon River will continue to rise over the next week and advanced preparations are being made to address the flooding potential. Everything depends on seasonal norms and rainfall amounts according to Everitt.
Hydrologists with Yukon Energy are working in collaboration with the City's Emergency Operations Centre and the Yukon Government to collect data.
The city says they're currently assessing the areas of priority for flood defences, with preventative sandbagging likely to get underway over the next week. He says a contingent of small sandbags provided by the Yukon Government is currently being used, while large and "Super-Sized" sandbags are still in transit to the city's teams.
Mayor Curtis says Yukoners have always shown themselves to be incredibly giving and supporting of one another during times of stress and he hopes that will continue, should the city be put into an emergency situation.
"We're definitely in the eye of the rest of the country, recognizing that there is potential for flooding here. I think, with what I've seen Chief Everitt talking about, we're in really good stead. We're getting on top of this before an issue happens, but it is pretty unprecedented and there's a lot of concern. I do believe that we're going to be alright."
Curtis says he incredibly confident with the staff working to prepare the city for flooding.